After Hurricane Sandy hit the east coast, many people were stranded without power, proper food, fuel and transportation. Life was hard, but thanks to many kind strangers with big hearts, it wasn't as bad as it could have been! Read through the awesome acts of kindness below... we know it will warm your heart. :)
1.) A doctor in NYC knew that some people need medical attention and took the steps necessary to make sure he could provide for those in need. He posted this online: "I'm open today if I can help anyone. Until 6 pm. Spread the word. Thanks. 189 east 2nd street btw A and B"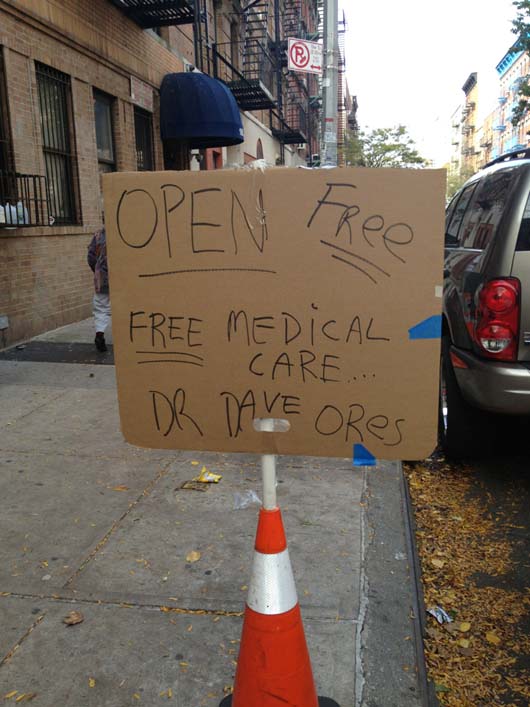 2.) A restaurant in Manhattan was kind enough to deliver ice to other restaurants, bars and shops so that businesses could stay afloat while the power was out.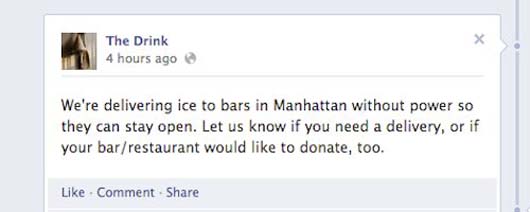 3.) When most of the people in this NYC neighborhood lost power, a kind family helped out their neighbors! They still had power, so they ran power strips out to the sidewalk using extension cords. That way, everyone in the area could have a fully charged phone in case of emergencies.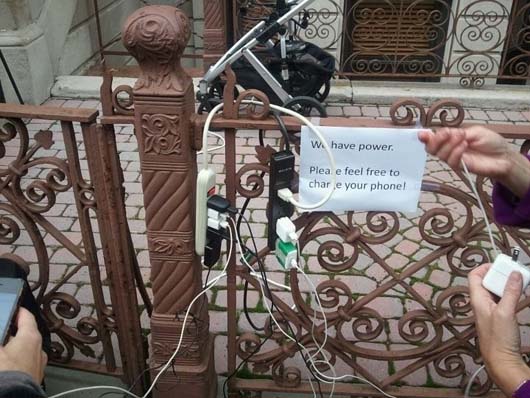 4.) For those who were without a way to get hot food, this free soup (and salad) kitchen was set up.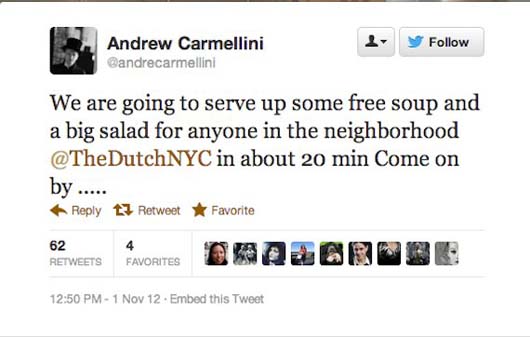 5.) Twitter followers were keeping an eye on who had power and who didn't. Those with restored power graciously let people visit their homes and spend some time in the warmth.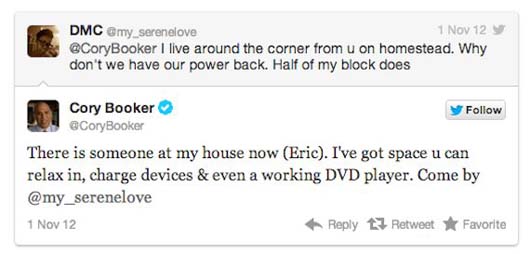 6.) On one street corner, people were encouraged to share their feelings about the hurricane, the power outages and any other issues they were having. Comforting strangers may feel strange, but it makes everyone feel better!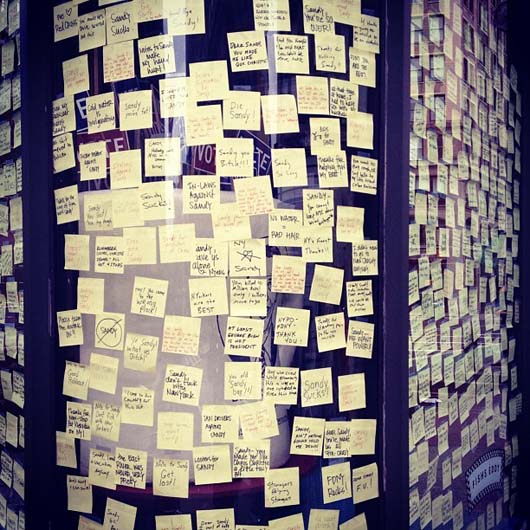 ---
7.) A young boy in New York decided to help victims of Sandy by having magic show on the sidewalk and donating any money he made.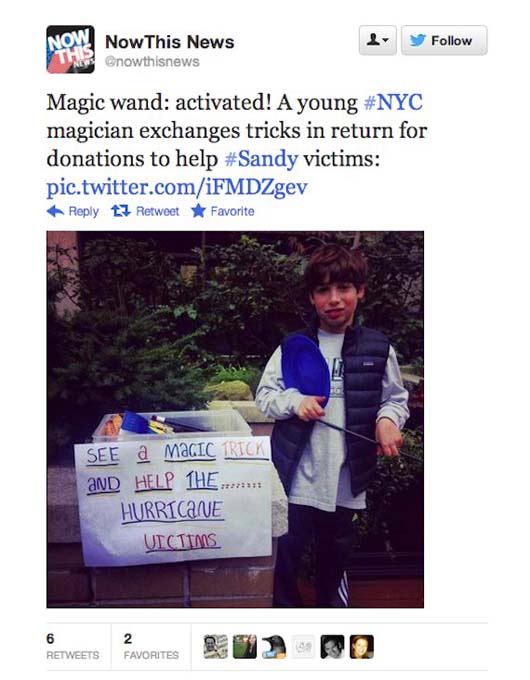 8.) Local restaurant Lonestar Taco helped feed unlucky lower Manhattan residents by setting up free taco stands in several locations.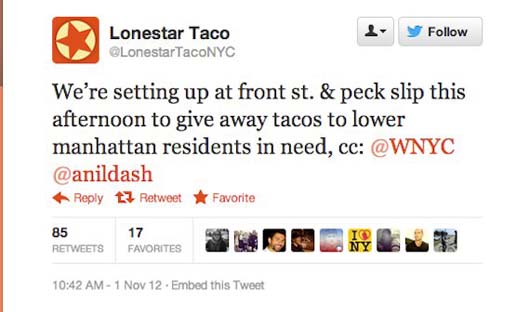 9.) It wasn't uncommong to see businesses lending a helping hand to people without power, just so they could call their families, check the news and find help if they needed it!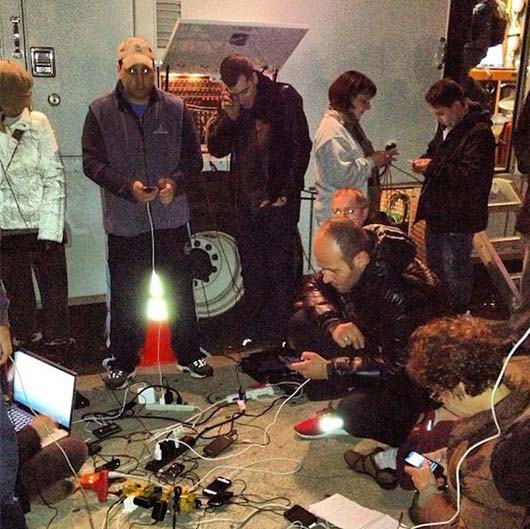 10.) Free coffee and food stands also appeared all over the city.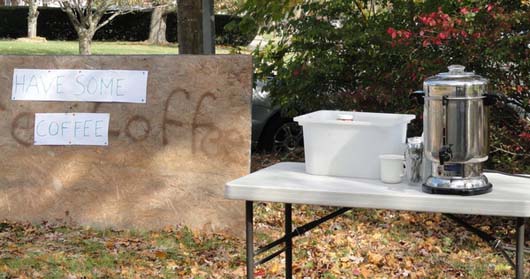 11.) One vet's office offered to give pets brief exams. That way, whether they were stranded or not, people would know if their best friends were in any danger from all of the stress, flooding and other terrible conditions.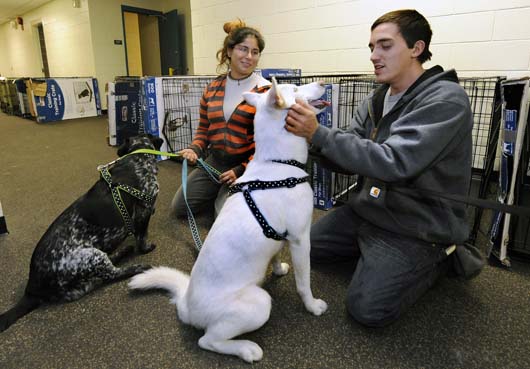 12.) In an extremely flooded town in New Jersey, a man with a jet ski made it his mission to rescue those who were stranded in homes, on cars, etc.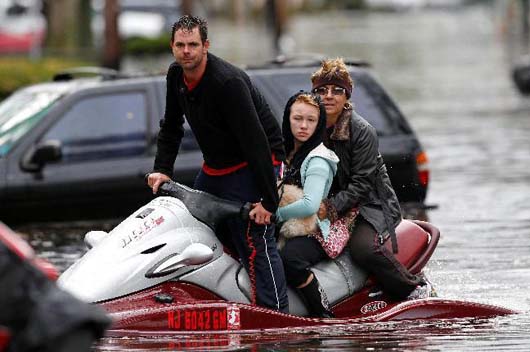 Seeing people help those in need is so heartwarming. If more people could learn to help their brothers and sisters, this world would be a much brighter place - even if there is a hurricane!

Source