A Magic Moment
Millie has seen many things in her 92 years on this earth. But she recently experienced a "first" that was captured by her grandson, Scott, in a photo that is being shared around the world. And seeing this sweet lady lay eyes on her newborn great granddaughter for the first time is utterly magical.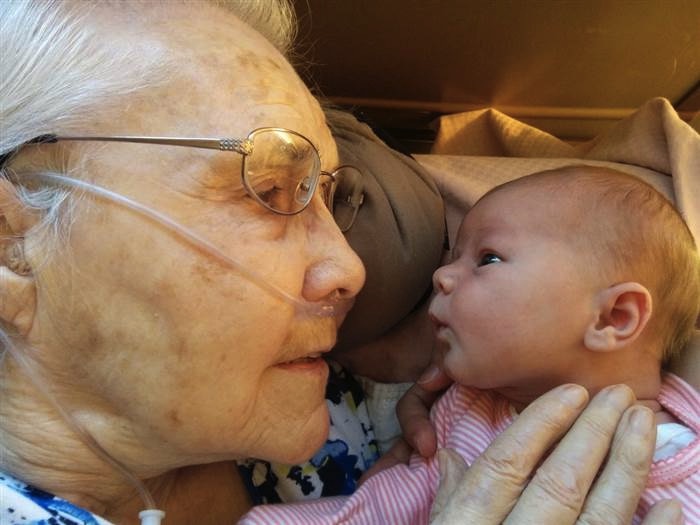 Credit: Scott Martin via imgur
Scott describes his grandmother, Millie Martin, as "the first love of my life." Their strong bond began when Scott was born with health issues. Millie stepped in and helped to raise him. She's continued to be a source of strength and love in his life, and was also there for him when his father died in a car crash nearly 9 years ago.
"We've gotten even. . .closer in the last decade," said Scott.
When Scott and his wife, Jennifer, decided to start a family, Millie was the one who prayed for them as the couple faced difficulty conceiving. It took three years, but God answered their prayers and blessed Scott and Jennifer with their daughter, Penelope Rose Martin -- or Pip as the proud parents have been affectionately calling her.
So naturally, the couple couldn't wait to introduce Pip to the woman who meant so much to the couple, and who had prayed so hard for this little miracle. So, a day after leaving the hospital, the couple took their precious Pip to see Millie. The newborn baby was still napping when they laid her into the Millie's lap.
The adults sat and talked for nearly an hour, when finally the sleepy baby awoke. New mom, Jennifer, recalls the special moment, saying,
"We wanted her to be the first to meet our new little girl. They just sat there and stared at each other like they shared a secret."
And as the two gazed lovingly into each other's eyes, Scott quickly snapped a photo with his cell phone -- a photo he then posted to Reddit where the special moment soon went viral. The occasion was especially poignant for Millie, who is bedridden with congestive heart failure. Jennifer explains,
"She's very Christian and talks about praying for the family and holding on for the baby and she kind of looked at us and said that she's happy now. As soon as she saw Pip she said, 'You can start praying for the rest of the family now.'"
And for little Pip, this is not the first time she's been an Internet star! This little miracle first captured the Internet's heart when she began clapping during her 14-week ultrasound. You can view that amazing video below!
h/t: GodUpdates
Want another dose of precious? Check out this adorable video that has a special surprise at the end!