Kabang is a one year old "AsPin" from Zamboanga City in the Phillipines. "AsPin" is short for Asong Pinoy or "native dog." Her face was horribly disfigured when she saved two little girls from being hit by a speeding motorcycle. Kabang shielded an 11 year old named Dina Bunggal and her 3 year old cousin Princess Diansing from the motorcycle, but in doing so her face got stuck in the front tire. The bike then destroyed the upper part of her snout and her eyelids.
It was suggested to the Bunggal family, who were the owners of the dog, that they put Kabang to sleep. The grateful family refused. "It does not matter if she's ugly now. What is important to us is she saved our children and we cannot thank her enough for that," said Rudy Bunggal, Dina's father. A veterinarian in the Philippines named Mario Ariola said that Kabang "was very calm, friendly and submissive" when brought into the emergency animal clinic. Not only that, but at the time of the accident, Kabang was almost two months pregnant!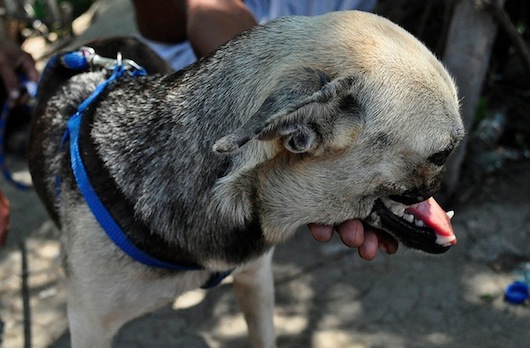 Kabang needs reconstructive surgery, available only in the US, but is too expensive for the Bunggals, who only make about $3.50 a day. However, thanks to all of the online attention and donations, Kabang will get the $20,000 surgery she needs!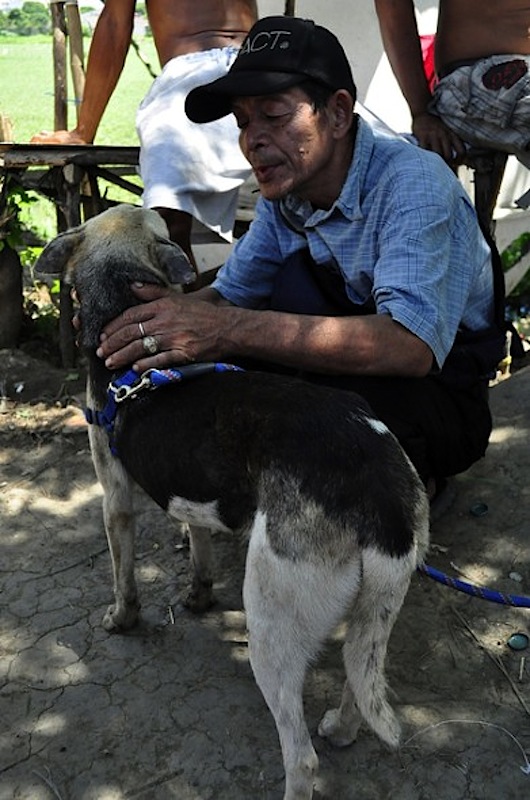 Several organizations, such as the Animal Welfare Coalition, will help Kabang fly to the Veterinary Medical Teaching Hospital at the University of California in Davis for her surgery. "The more time that goes by, the more Kabang is at risk of infection. Fungal infections can be especially difficult to eradicate and any infection in the bone can be a lengthy process to treat at best. Her chances are better the sooner she can get those wounds closed," said Karen Kenngott, the US coordinator for Animal Welfare Coalition.
Kabang recently gave birth to six puppies, so not only did she save the lives of two little girls in the Philippines, but she brought six different lives into the world as well. We love you Kabang!