In God We Trust
If anyone needs God, it's our brave police officers. These are men and women who put their lives on the line every day. Most have at least one or two stories of harrowing brushes with death or miraculous rescues. Even routine calls have the potential to bring unexpected danger.
So, it seems natural that our officers would put their trust in God to see them through. Because we know God and His angels are at work right alongside these warriors.
But sadly, more and more of these men and women are being told to keep their faith and any mention of God to themselves.
Take, for example, Missouri Sheriff Doug Rader.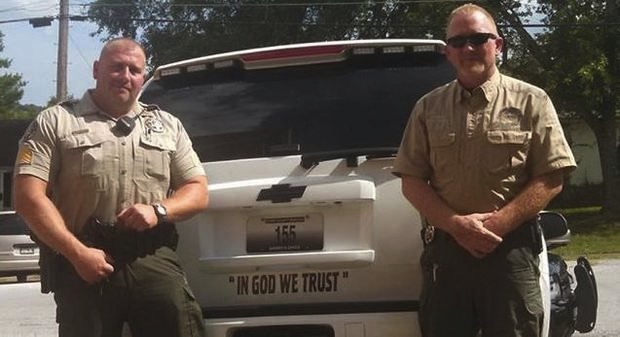 Sheriff Rader on the right Credit: Facebook.
With the support and encouragement of local residents, Sheriff Rader had decals added to the department's patrol cars with the motto, "In God We Trust." The decals were created and donated by a local business, so that no taxpayer money was spent.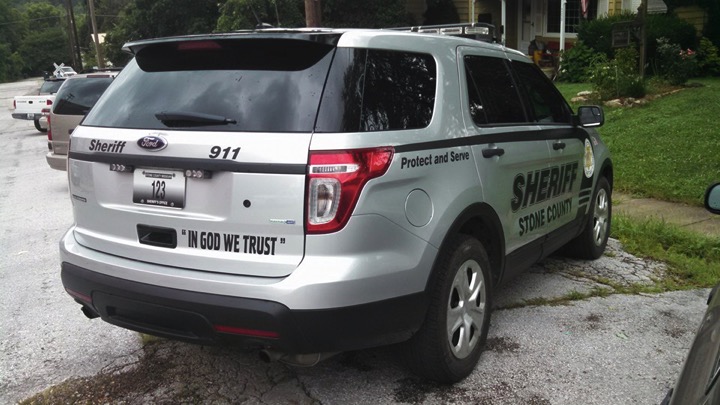 Credit: Facebook
But when he proudly posted a picture of the new decals to the department's Facebook page, things got hairy.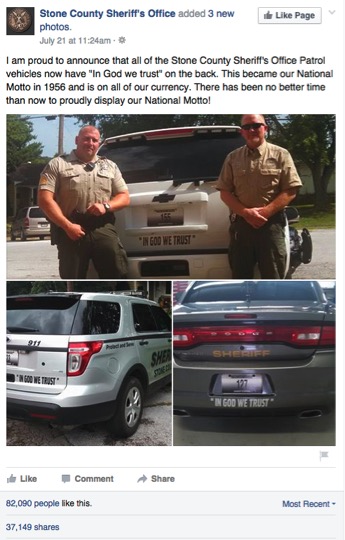 Credit: Facebook
Initially, the post was met with supportive comments. But it sparked its share of controversy as well, along with a number of threats. And it's the latter response that has Sheriff Rader frustrated, saying:
"I thought 'what a great patriotic gesture,' so I did put [the decals] on our cars. But now...I'm mad. I'm mad because this is even an issue...Where is our patriotism?"
And Sheriff Rader is not the only one catching heat for God inspired decals.
Houston County Sheriff Donald Valenza met similar outrage when he purchased the following decal for his department's patrol vehicles.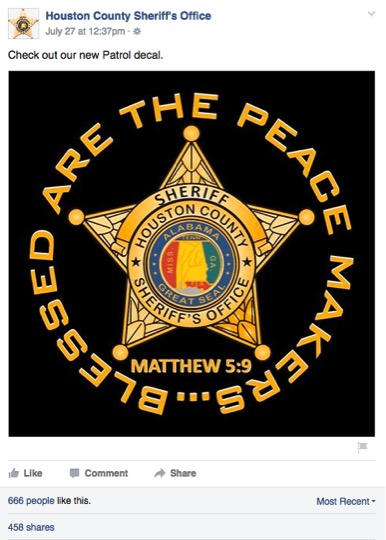 Credit: Facebook
The decal sports a verse from Matthew 5:9 -- "Blessed are the peacemakers." It is the first part of a verse that has always meant a lot to Sheriff Valenza and his department. He says:
"I've always had religious belief, and I feel like that's kept me alive. It symbolizes the Houston County Sheriff's Office."
But just like with Sheriff Rader, the decal, costing a mere $1.60 each, has come with its share of complaints. But this man of God is also sticking to his guns, saying:
"Whether you like it or not, God is still in our life. I look at it like this -- the law of the world, in my opinion, is the Bible, and the law of the land is law enforcement. We are put here for a reason, to help and protect the innocent."
Amen to that! God has a very specific purpose for our police. Just as the verse Sheriff Valenza selected says, they are the peacemakers, and God uses them for His good every day. Please pray for protection for these brave men and women who serve their communities.
Please also pray for this country -- that we can see more and more people putting their faith in God. That "In God we trust" will remain a widespread call for pride rather than a source of controversy.
You can hear Sheriff Rader share his thoughts on the matter below:
h/t: GodUpdates
This police officer just restored my faith in humanity!