Staying Faithful After A Freak Accident
"Why?" That one word is perhaps the biggest obstacle to faith. And after a freak accident involving Stacy and Bill Halstead's young son, Tripp, changed the family's lives forever, that one question could have easily torn them apart. But instead, this amazing family found strength in prayer, faith and most importantly, God. And it's that decision that is inspiring the more than one million folks following their story on Facebook!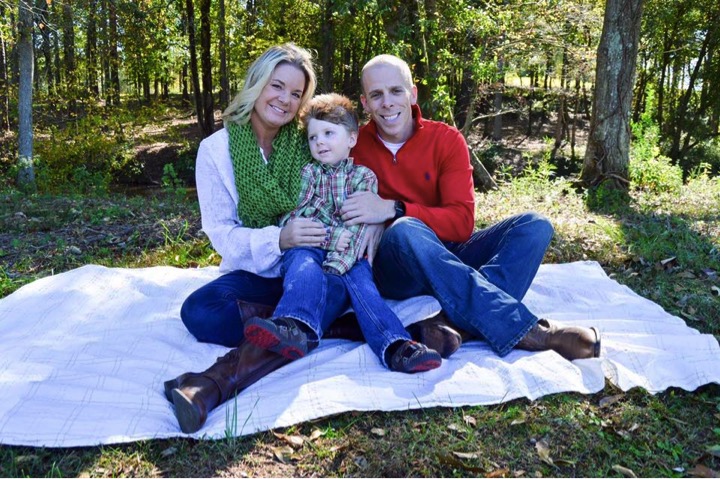 Credit: Facebook / Tripp Halstead Updates
Stacy describes her life growing up as blessed. She had terrific parents and in 2006 met the love of her life, Bill. A year later in 2007 they were married, and by 2008 were ready to try for a baby.
It proved more challenging than the couple had expected, but by God's grace and the help of a fertility specialist, Stacy gave birth to a precious, baby boy in September of 2011. They named their angel Tripp.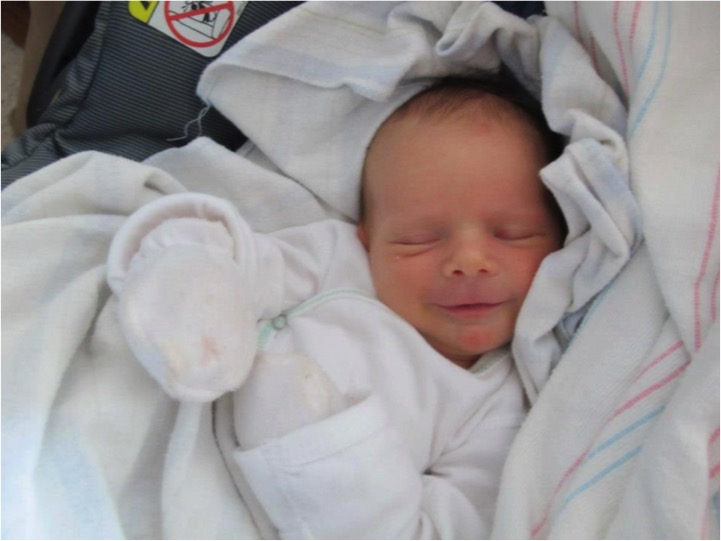 Credit: Facebook / Tripp Halstead Updates
"He was great," Stacy explains. "He slept great, ate great, everything was good. He was an awesome toddler. He was in daycare and so smart. Before the accident, he was saying sentences, he was extremely social – he wanted to be included in everything."
Tripp's happiness was contagious. Stacy says even strangers were drawn to him. He loved going to daycare, and the folks there loved him right back. They were like a second family.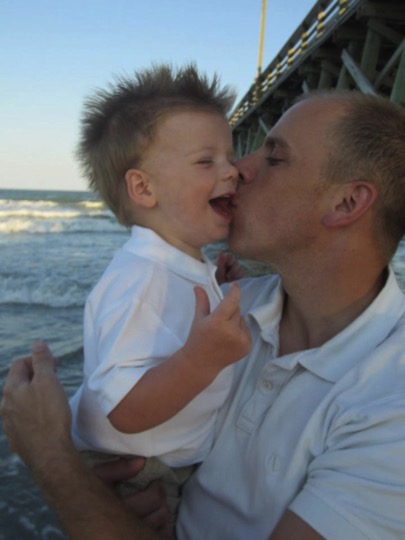 Credit: Facebook / Tripp Halstead Updates
Stacy dropped Tripp off at daycare on a day that started just like any other. But by 11am the daycare was calling, though it took a while for Stacy to realize just how serious things were.

"They said Tripp had an accident and I needed to come right there," she recalls, through tears. "I didn't even ask how bad it was. In my mind, I was thinking, 'Great, he broke his arm or leg,' nothing tragic."
But before she could make it there, she got another call from the daycare, letting her know that Tripp had been transported to the hospital and she should go directly there. The next call was to tell her that her baby boy was being airlifted to the children's hospital in Atlanta, and that's when the gravity of the situation really sunk in.
"I was hysterical," she recalls. "I told my husband and mother that something traumatic happened. I said I wanted to meet them at the local hospital before he was taken by helicopter. That's when I got the full story."
Tripp and his classmates had been playing a game called "Ready, Set, Go" -- where the children would run back and forth across the playground. His classmates had grown tired of the game, but the effervescent Tripp was playing. He was leaning up against a fence when a terrible freak accident occurred.
A loud cracking sound echoed through the playground, as a large branch suddenly broke off of a tree, landing directly on Tripp's head.
Everyone assumed the little boy was dead. But miraculously, he wasn't. The only reason he wasn't was because of the fence.
Tripp lay on the ground, unconscious, amidst the screams and cries from everyone around him. There was no blood -- it looked just like he was sleeping. The peacefulness concealed just how critically serious his injuries were.
"I was in shock. It never occurred that it was life-threatening. I just thought, 'He's hurt, and they're gonna fix him,' " Stacy explains.
But once Stacy and Bill arrived at the hospital, the doctors explained that Tripp had undergone severely extensive brain damage. They were doubtful he'd survive the surgery his condition required.
"We gave him as many kisses as they would let us, told him it would be OK and that we would see him soon," Stacy recalls.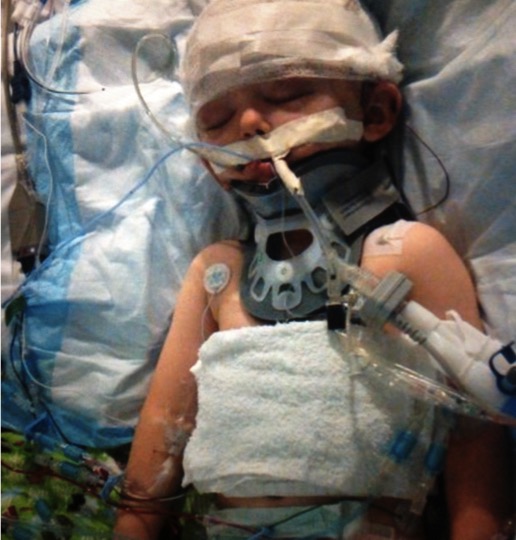 Credit: Facebook / Tripp Halstead Updates
And that's when the family started the Tripp Halstead Updates Facebook page. It was a place for Stacy to share what was happening, as well as pray with a community of followers that has since grown to over one million people rooting for little Tripp.
Through the power of prayer, Tripp pulled through the surgery. But a few days later, the immense swelling was causing his body to shut down. Again, his anguished parents were told to say goodbye to their son.

"A nurse told us she could bring in a hospital bed so that we could lay with him until he passes," Stacy recalls. "I went into the bathroom and screamed into a towel. Bill came in and told me, 'It's gonna be OK. Even if Tripp doesn't make it, it's gonna be OK.' "
Yet another risky surgery was performed in which doctors tapped Tripp's spine in order to drain fluid from the brain. Again, thousands prayed for a miracle. And again, Tripp survived when it seemed impossible.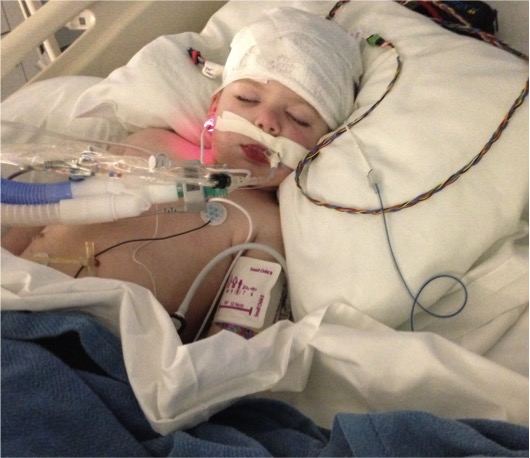 Credit: Facebook / Tripp Halstead Updates
From there, things started to slowly get better. Tripp's breathing tube was removed, the boy woke up and his parents were able to hold him for the first time since the freak accident.

"It was very, very nerve-wracking because I didn't want to hurt him," Stacy says. "They set me up in a chair. It was very sweet."
Rehabilitation was going well, before the family hit another major set back.
The damage to Tripp's brain caused his body to stiffen up. He underwent another procedure to install a pump to administer a drug to keep his muscles loosened.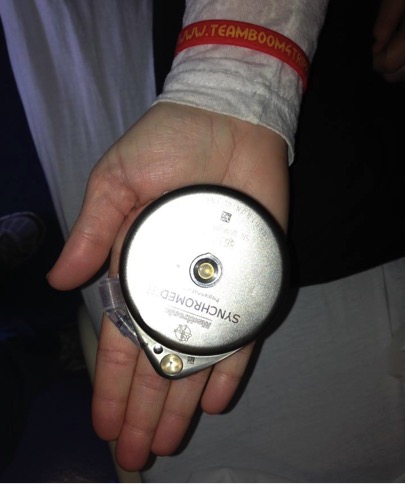 The pump Tripp had installed to administer the drug Baclofen Credit: Facebook / Tripp Halstead Updates
Unfortunately, the surgery left Tripp with a bacterial infection called ventriculitis that was more threatening than the freak accident itself.
The hardware had to be removed, and all of the major steps he'd taken during rehab were reset. He could no longer wave, swallow or kick a ball -- all of the progress he'd made was wiped out.
It was incredibly trying for the family, but they clung to their faith and the prayers the support community continued to offer up.
Finally, Tripp was able to go home, where he and his parents adjusted to a very different lifestyle than they'd had previous to the freak accident. Tripp required round-the-clock care. He was very stiff and his condition caused him to throw up at least 10 times a day.
But this faithful family persevered, and those following their story continued to pray and cheer them on from all over.
And gradually, things got better. A year after the freak accident, and Tripp was able to start at a special-needs preschool.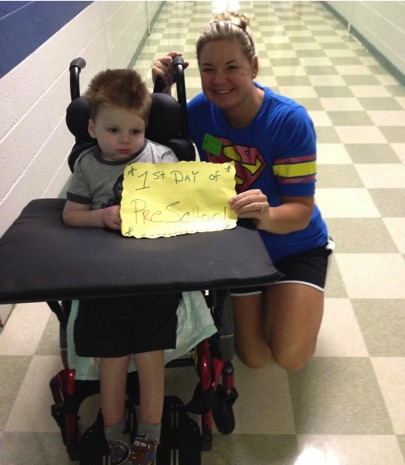 Credit: Facebook / Tripp Halstead Updates
Three and a half years later, he's undergone 20 surgeries, and there are more to come. And while his motor skills haven't returned, his personality has, which is an answered prayer by itself.
"He smiles, laughs and giggles. But he pouts, cries and gets upset. He's still in a diaper and has a feeding tube," Stacy explains. "We physically take care of his needs … but the fact that he can show emotion is all we ever prayed for."

Credit: Facebook / Tripp Halstead Updates
And Tripp continues to have a "village" -- an entire online community -- constantly praying and rooting for his progress. It's something for which the family is incredibly grateful. They remain realistic about his prognosis, accepting the fact that Tripp may continue to heal or this may be the best they'll ever see him.

"I pray a lot," Stacy says. "I believe Tripp will be perfect one day, and that this is only temporary during our time here. I still wake up every morning with a knot in my stomach. It's those few minutes getting ready to start your day that are the hardest. But once I see his little face, I know it's gonna be OK. He makes everything better, that's for sure."
Sometimes it's difficult to find the purpose behind the bad things in life. . .to find an answer to the why's of life. And that's where faith comes in. Our God is a powerful God, and he can truly use anything for a greater good.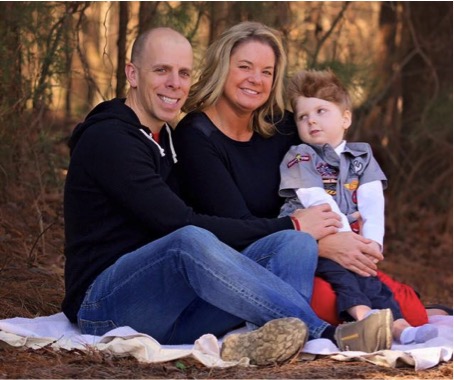 Credit: Facebook / Tripp Halstead Updates
It's that incredible faith -- that keeps so many following the updates Stacy posts on Tripp's Facebook page. We may not have an answer to the question of why this tragedy happened, but it's clear to everyone that God put a very special purpose on Tripp's life. And so, we will continue to pray for this family and cheer as we watch the incredible work God is doing in their lives!

"My comfort in my suffering is this: Your promise preserves my life." Psalm 119:50
h/t: GodUpdates