Jackie Johnson-Smith is a stay-at-home mom from Ankeny, Iowa. She was out celebrating her 33rd birthday at a pizza shop with her husband and three kids when her children began to get a little out of control. Not only that, but her baby was fussy.
So, to try and quiet her child, Jackie put on a nursing cover and began discreetly breastfeeding her 12 month-old. "I usually don't like to breastfeed in public because people can be judgmental," she says. "The waitress kept walking by, and I was worried she didn't want me nursing in the restaurant." She eventually left the restaurant to finish feeding in the car, worried she would upset someone.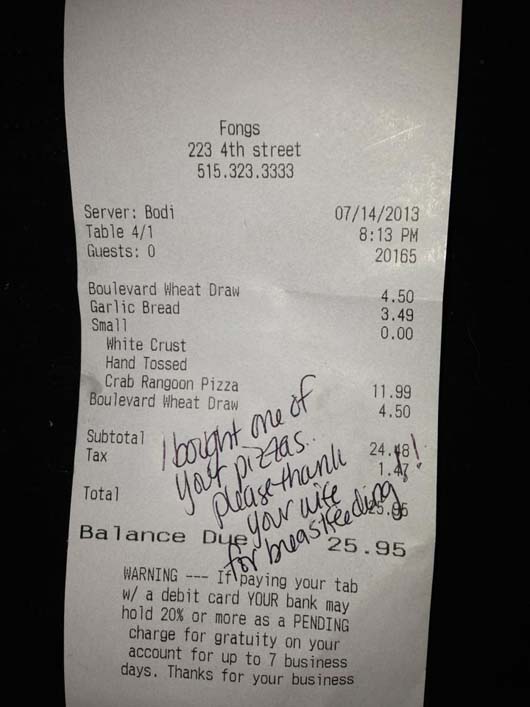 Soon, Jackie's husband walked out with a huge smile on his face. "He handed me the dinner receipt and at first I was confused—why is he showing me how much my birthday dinner cost?" said Johnson-Smith. To her surprise, there was a handwritten note on the paper: 'I bought one of your pizzas. Please thank your wife for breastfeeding!'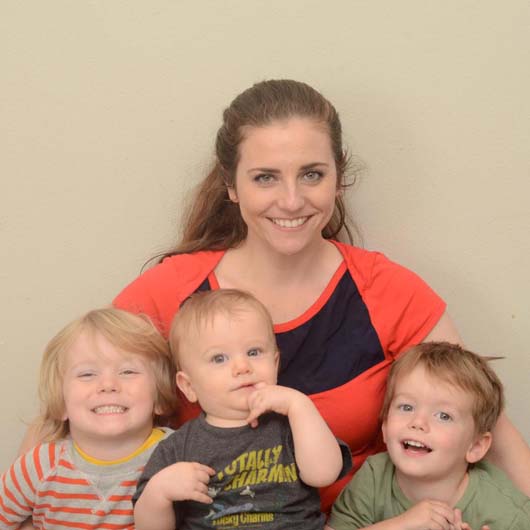 She was so touched by the message from the waitress, she posted the photo to Facebook along with her story. As of Thursday morning, the photo has been shared over 2,000 times and received more than 100 likes on Facebook.
The note meant so much to Jackie and she wanted to make sure the waitress knew she was grateful. "She has no idea what that note meant to me," she said. "I just want her to get the recognition she deserves."
Being a mother can be tough and we should support the good mothers out there who care about the well being of their children, no matter where they are!
(via yahoo.com)