Capital One Rep To The Rescue!
Christina was in desperate need of some kindness. Her fiancé dumped her. She had to move out. And to top it all off, as she was purchasing new furniture her credit card was shut down. But when she was connected to Capital One rep, Tonya, she got just the dose of compassion she deserved!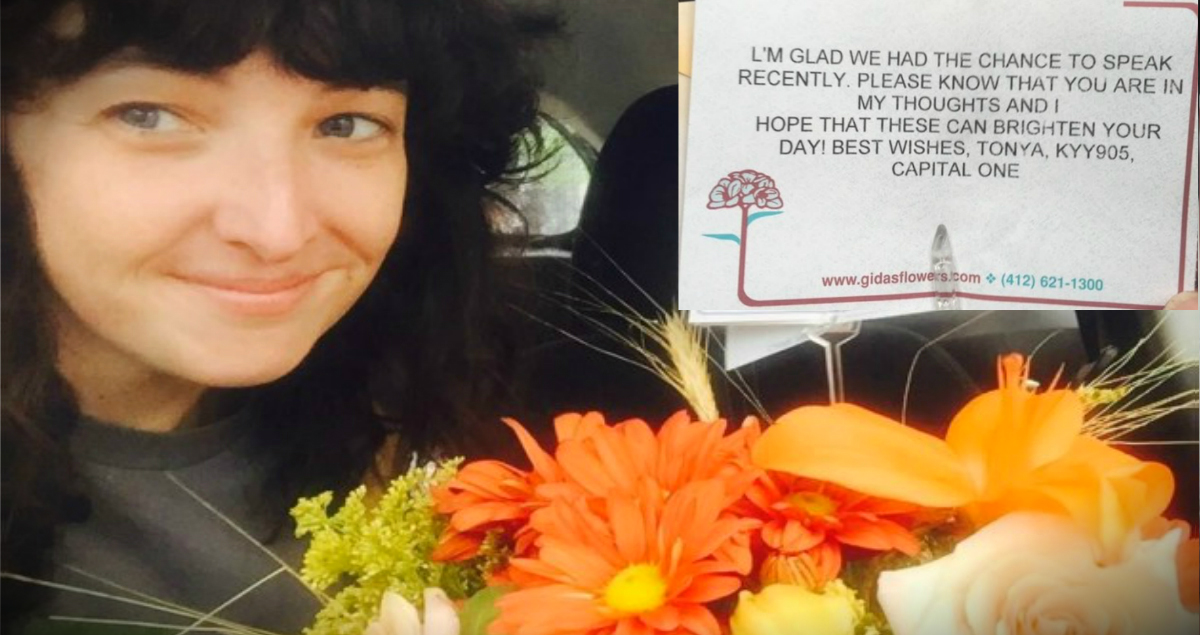 Credit: Facebook
While Christina was ordering furniture for her new place, the purchases triggered a "suspicious activity" alert, and her credit card was shut down. It was just one more hassle Christina didn't need.

An Unexpected Connection
She picked up the phone to get the matter sorted out, and was connected to Capital One rep known as "Tonya KYY905." The two had an instant connection and after hearing about the crummy situation Christina was in, Tonya decided to do something special to brighten her day.
"It was what she said and how she said it. I just knew she needed a hug in that moment," said Tonya.
Of course, the distance between Christina and Tonya didn't allow for a hug. So, Tonya decided to do something else instead.
"We really just started joking with each other, and she just said, 'Girl! I'm going to give you 4,500 miles,'" Christina explained.
In actuality, the bonus miles don't equate to physical miles, so 4,500 equates to about $45. Still -- it's the thought that counts. And the unexpected kindness from a complete stranger was just what Christina needed to put a smile on her face.
Oh, but Tonya wasn't done!

Another Surprise
Several days later, Christina got a text from her ex-fiancé letting her know flowers had been delivered to the house for her.
"Who would be so bold?" she thought as she drove over to pick up the flowers.
After retrieving the beautiful bouquet from her ex, Christina opened up the card to see who'd sent them. And she couldn't believe what she saw!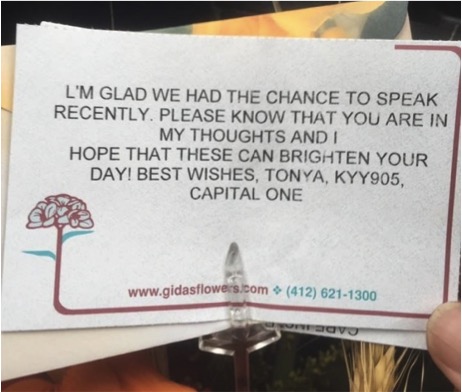 Credit: Facebook
The flowers were from Tonya. She'd had the flowers delivered to her ex's house. . . in a sealed card!
"I just started crying!" Christina said.
She immediately gave Tonya a call to express her gratitude. But the change in Christina's demeanor was all the thanks the kindhearted Capital One rep needed!
"I feel like it meant more to me that it made her so happy and it just perked her up. You know? And it just changed her whole attitude," Tonya said.
And Tonya's act of kindness has continued to lift Christina's spirits.
"Now, when I feel stuck, I think, What would Tonya say?" she said. "She's like a fairy godmother of sorts. It's nice when someone takes the time to be kind and bring out your strength. And that's what Tonya did for me."
It just goes to show that random acts of kindness can have a huge impact. And they don't have to be limited to face to face interactions!
"Therefore encourage one another and build one another up, just as you are doing." 1 Thessalonians 5:11
A bride who was dumped a week before the wedding decides to trash the dress for a good cause!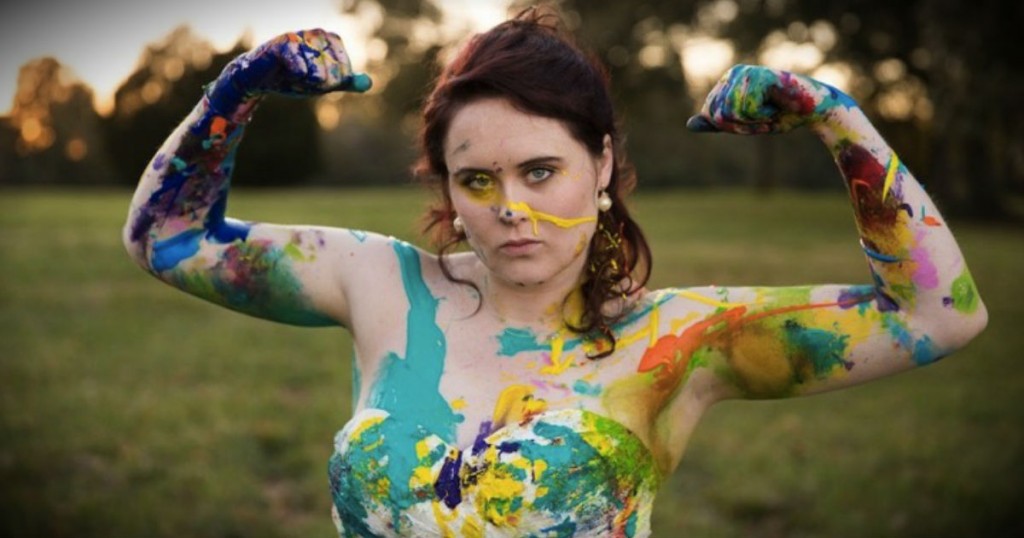 h/t: GodUpdates