Most politicians aren't known for being every day heroes, but the mayor of Newark, New Jersey is proving they can be! His most recent act of heroism? Saving a freezing dog from the cold!
Reporter Toni Yates noticed the dog was left out in the freezing temperatures when she was out filming a separate segment. After a day of shooting, her and her film crew were concerned about the safety of the dog. Pets can die if left out in sub-zero temperatures. So, she decided to tweet the mayor of Newark!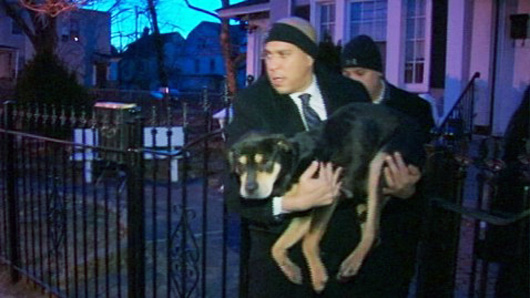 After tweeting the mayor and encouraging others to retweet the message, Cory Booker finally responded and rescued the poor dog. Once on the scene, Mayor Booker went to the dog to cuddle her, then carried her to a police cruiser to warm her up.
"This dog is shaking really bad, and you just can't leave your dogs out here on a day like this and go away and expect them to be O.K.," Booker told WABC. "Hypothermia on any animal, including a human animal, will set in pretty quickly. So this is very sad, you can just feel the dog shaking pretty badly."
He called the owner of the dog, informing them she was in danger being left out in the cold like that.


Saving Cha Cha the dog from the cold hasn't been his only act of heroism!
- Last April, when the mayor's neighbor's house caught on fire, he didn't hesitate to go inside to save her. He was able to get her out of the flames and both were treated at a hospital for some smoke exposure.
- When Hurricane Sandy knocked out power for many in New Jersey, Mayor Booker opened up his home to let people in the area hang out somewhere safe, watch DVDs and charge their devices. He even had lunch delivered.
- In the harsh winter of 2010, Cory turned his @CoryBooker Twitter account into a blizzard help line. When one man tweeted that his sister couldn't make it out in the snow to buy diapers for her baby, the mayor showed up at her house with diapers himself. Not only that, but he helped a crew dig out a bus that was full of people and stuck in a snowbank.
- In December 2012, he took part in the SNAP (Supplemental Nutrition Assistance Program) challenge to better understand those people who were reliant on food stamps.
If more politicians could be like Cory Booker and actually care about who they are leading, the world would be a much better place!
(via Huffington Post and Time)