'Is This What A Retard Looks Like?'
Shannon Daughtry is mom to an adorable girl named Raegan. How anyone could look at this little angel and see anything other than a blessing from God is beyond me. And yet, because Raegan has Down syndrome, there are those out there who would use the horribly derogatory word, "retard." Shannon's husband, Dustin, recently had an encounter with this nasty word. And while he handled it beautifully, it truly is heartbreaking to know such disgraceful and insensitive thinking still exists.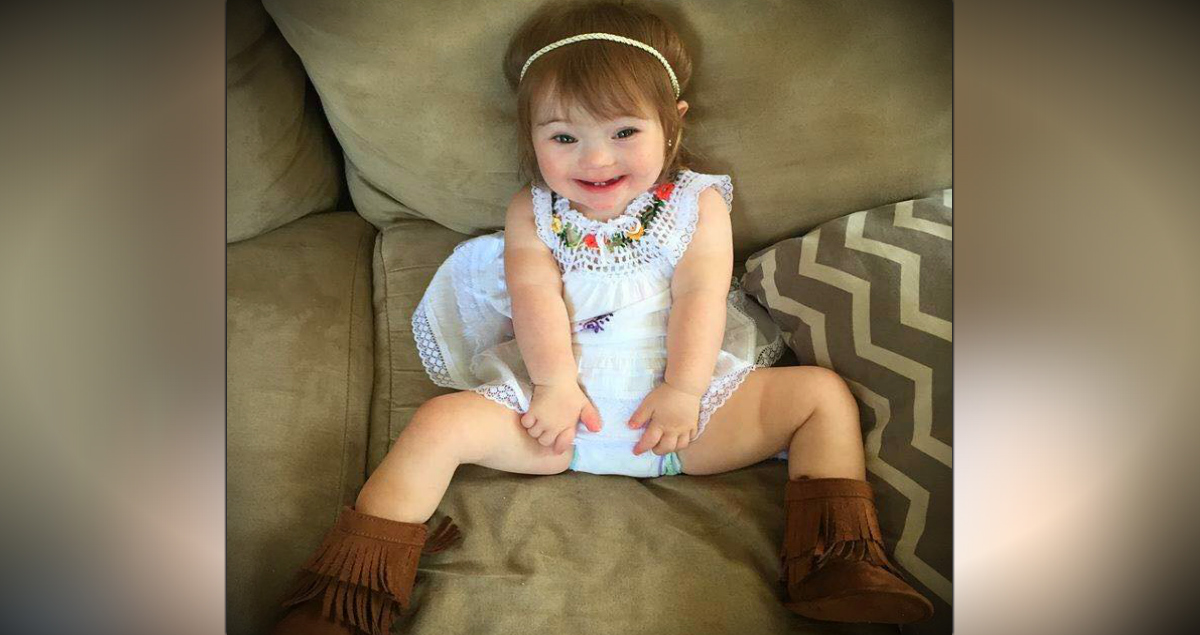 Shannon was hesitant to share Dustin's story on Facebook because she couldn't seem to shake the sad feeling she'd had since he'd told it. But this brave mama realized that if it could help enlighten even just one person, then it was worth it. And considering how viral the post has gone, she certainly made the right call!

Shannon wrote on Facebook:
"So, I just can't shake this sad feeling I have had since my husband told me this story today. I wasn't going to share it, but then decided that if it could enlighten one person, that it would be worth it.
My husband, Dustin, was at work yesterday, sitting at a big lunch table of about 15 people. These are all guys that he waves hello to but doesn't really know on a personal level.
Anyway, one of the guys starts telling the whole group a story about a Halloween party that he attended this past weekend. The guy says 'OMG, my brother came to the party and had the best costume. He went as a RETARD! Oh man, it was hilarious!!! He was awesome. He looked like such a good retard!'
My husband was totally taken aback and just sat there pretty stunned for a moment while he gathered his thoughts.
Meanwhile some of the guys were laughing at the story, while some were just listening. So Dustin, almost giving the impression that he was going along with it said, with a small smile, 'Well, wait, what does a retard look like?'
The guy just said 'I don't know, but he was good! He was the perfect retard'
So a couple seconds go by while Dustin took out his phone and pulled up this picture of our daughter and then pushed his phone to the center of the table. He said 'This is my little girl, Raegan' and all the guys, including the storyteller, lean in to look and they all start saying 'Awww, she's adorable!' 'Wow, Cute kid, man' etc...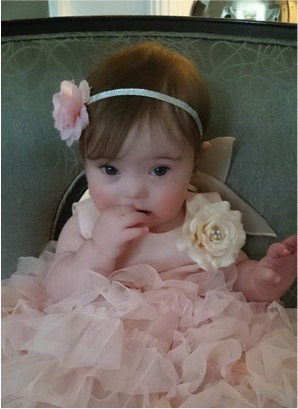 Dustin then looked at the storyteller and said 'Thanks, she is amazing. She has Down syndrome. So, I'm sure you can imagine that I don't appreciate this costume conversation. I'm just wondering, Is she what a retard looks like, to you?'
Of course, mouths dropped and there was total silence while the guy tried to say that wasn't what he meant, on and on....
Dustin just went on to explain why that word is so hurtful, shouldn't be used, and especially how insulting it was to use it as a joke and a costume. Yeah, I'm sure it was pretty uncomfortable for everyone involved. But I think that those people at the lunch table probably went home with a little better understanding of why that word is so offensive and hurtful, especially to a family like ours. And I think one guy in particular probably went home feeling like a total jerk.


At least some good came out of it, but it still makes me feel so sad that some people look at our kids as a joke. I've said it a thousand times. There are so many words in the dictionary that you can use in place of the 'R' word. Please, for Raegan's sake, consider using a different one. ❤️
FEEL FREE TO SHARE THIS POST TO END THE 'R' WORD. #spreadthewordtoendtheword"
Too often, the power our words have is brushed off with the phrase, "just kidding." But just as Proverbs 18:21 says, "death and life are in the power of the tongue." Let's use our words to build each other up.
Please share this story and say a prayer that it helps enlighten someone as to just how powerful their words can be!
"For by your words you will be justified, and by your words you will be condemned." Matthew 12:37
Mom writes an open letter to the babysitter who cared for her special needs son!