In an act of unprecedented kindness, President George H.W. Bush shaved his head Wednesday to show support for a 2-year-old boy who is battling leukemia. The little boy lost his hair because of chemotherapy treatment and was feeling down. He is the son of a member of the former president's Secret Service detail and George wanted to do something special to let the boy know he cared.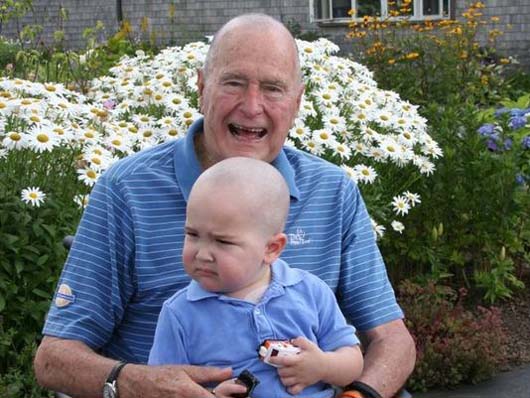 The nation's 41st president decided to shave his head after he found out that members of his detail had also shaved their heads in solidarity with the boy. Now, all of the President's men and the President are bald for little Patrick.
An official statement said that they "launched a website at www.patrickspals.org to assist with Patrick's medical bills, and organized the Inaugural Patrick's Pals Motorcycle Benefit Run on August 10th in Kennebunkport -- a 50-mile motorcycle ride through the Maine countryside followed by a lunch and silent auction to raise funds for Patrick's treatments."
Not all politicians are bad. :) We pray little Patrick finds strength to battle his illness and may God watch over him!
(via usatoday.com)