Her parents gave her the gift she always wanted. But she only felt true joy when she gave up her gift to help a friend.
"I just really wanted a Jeep," said Chandler Lacefield, a college freshman.
Chandler's parents blessed her with her very own red Jeep as a high school graduation gift. She and her friends spent two months of summer cruising in her new ride.
"I loved that Jeep. We'd always go fishing in it. Take the top off. It was a bonding vehicle," Chandler said.
Chandler met 17-year-old MacKenzie Sterner that spring. They were on the track team together and forged a strong friendship throughout the season. Chandler was a senior, MacKenzie a junior.
MacKenzie is the daughter of a single mom of four, and they lived on a tight budget. There was no money to buy a car for MacKenzie.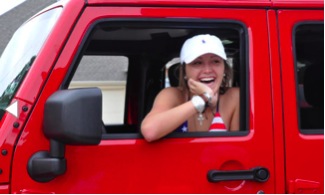 Little did any of them know, God would provide for them through someone very close.
Chandler used her red Jeep to serve MacKenzie and her mother. "I'd take her to work, pick her up, take her to cheer practices," she said. "Her mom was working, and I thought it'd be easier for her and her mom."
That June Chandler left her home, red Jeep, and friends behind and went on her fourth mission trip, this time to Bali.
While Chandler was on the mission field, she helped with food supplies in nearby villages, played with children, and was truly humbled by her experience. She also heard from God. He laid something on her heart that she just knew she had to act on as soon as she got home.
When she arrived home a month later, she shared with her parents what she felt God was telling her.
"God laid on my heart in Bali, he wanted me to do something big," Chandler said. "I told 'em, God was telling me he wanted me to sell my car and help Kenzie get a car."
Chandler's mother, a pastor, wasn't surprised by her daughter's proposal. "We've known from the time she was little she has a big heart."
They knew they had to obey God, so they sold her Jeep and used the money to buy two cars – one for each of the teen friends.
"Some of the dealerships treated me like a kid, and I didn't like that," she said. But after church members pointed her in the right direction Chandler finally found the right vehicles. The 2002 Acura MDX was for MacKenzie, and the 2011 BMW 328 was for her.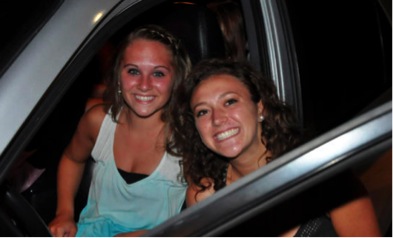 When it was time to reveal the big surprise Chandler told her friend. "We have a surprise for you!" MacKenzie said, "I thought it was a bounce house or maybe they'd finally found a good fishing spot."
When MacKenzie's recalls Chandler uncovering her eyes, "And there's my car in front of me with a big red bow. And I'm like, 'OK, what is this?' Everyone had cameras in my face and finally someone was like, 'That's yours.' And I started crying. It was awesome."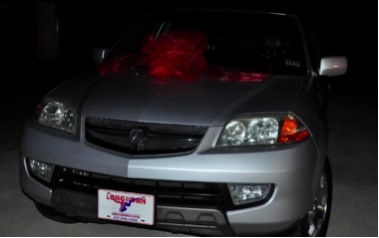 Chandler's mom proudly said, "It's a test of her true character and what we've tried to pour into her."
"Most people don't believe it," said MacKenzie. "I probably have the coolest friend in the world that she did that for me."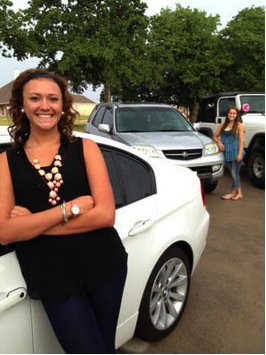 "I was happy for Kenzie," Chandler said. "Joy. I was just happy for her. I was just glad she loved it. I'm glad I did it. I don't regret it at all. I know it's the right choice I made." And by the right choice, Chandler means that she is happy that she obeyed her Heavenly Father.
If you cling to your life, you will lose it; but if you give it up for me, you will find it. (Matt 10:39)
For I was hungry, and you fed me. I was thirsty, and you gave me a drink. I was a stranger, and you invited me into your home. 6 I was naked, and you gave me clothing. I was sick, and you cared for me. I was in prison, and you visited me.'
"Then these righteous ones will reply, 'Lord, when did we ever see you hungry and feed you? Or thirsty and give you something to drink? Or a stranger and show you hospitality? Or naked and give you clothing? 39 When did we ever see you sick or in prison and visit you?'
"And the King will say, 'I tell you the truth, when you did it to one of the least of these my brothers and sisters,[c] you were doing it to me!' (Matt 25:35-40)
credit: http://www.nbcdfw.com