Andrea Smith went into labor as Hurricane Harvey dumped buckets of rain on Texas. She and her husband, Greg, tried calling 911, but got no response. The couple quickly found themselves trapped inside their Houston apartment. And that's when kind neighbors formed a human chain to help get the pregnant woman to safety!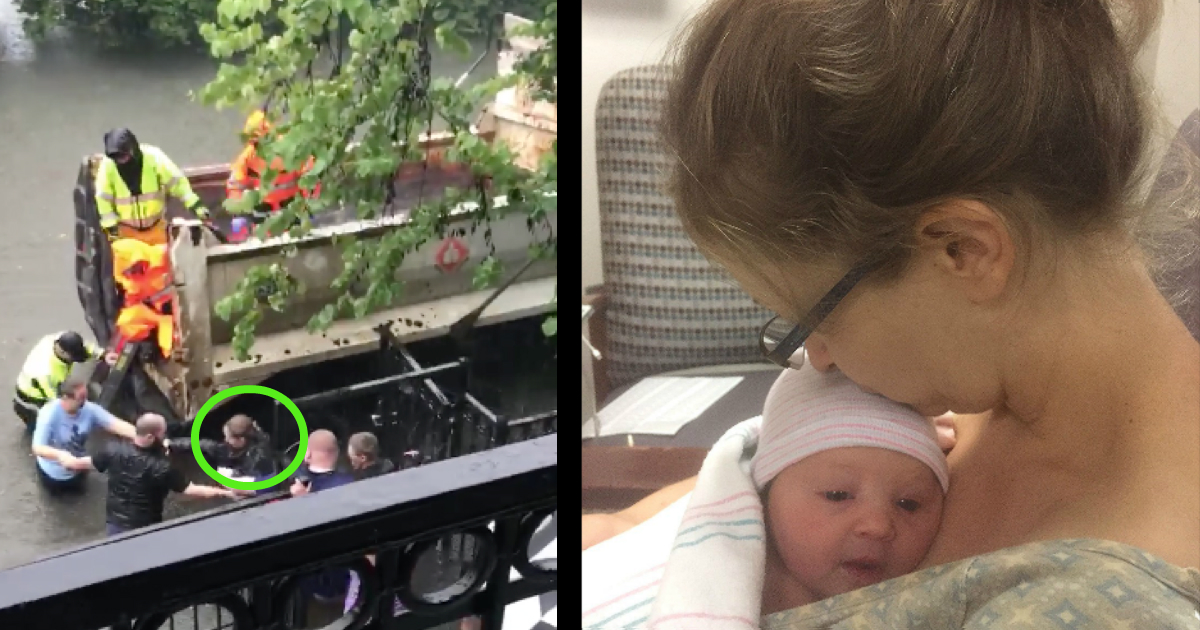 A Tough Journey

The journey to welcoming Adrielle Smith into the world certainly wasn't easy. But the little girl's parents, Andrea and Greg Smith, say it was full of God moments!
"Everything about this pregnancy is God's will," Greg said.
The journey started with heartache. The couple suffered two miscarriages before Andrea was successful in carrying a pregnancy full-term. The losses were heartbreaking, but the couple leaned on their faith to see them through.
"We felt like we had to surrender this to God," Greg explained.

Then the contractions started. But they carried on for weeks, so the couple waited to see when God would decide it was time.
Believe it or not, that time came during Hurricane Harvey!
Preparing For A Home Delivery

With Andrea's looming due date and intense contractions, Greg kept a close eye on the weather. The couple planned to head to the hospital Sunday morning, thinking they'd miss the worst of Hurricane Harvey.
"I expected there would be five or six inches that I could drive through," Greg says. "I woke up to two or three feet."

Needless to say, Harvey surprised everyone. And by Sunday morning, the couple realized there was no way they'd be driving to the hospital.
RELATED: Woman Gave Birth Not Knowing She Was Pregnant, Then Gets A Miracle
Greg tried calling 911, but couldn't get through.
"It kept kicking us off the line," he says. "I couldn't get through."

He had no better luck when trying the Coast Guard. Desperate times call for desperate measures, so the couple nervously started preparing for an impromptu at-home delivery.
Even though both Andrea and Greg happen to be doctors, neither have experience in obstetrics. Andrea works in geriatrics and Greg is a pediatric anesthesiologist. But the two were trusting in God to see them through.
"I knew I would have to do this myself," Greg says. "I had some courage, though. Even if I had to do a home birth, I felt like it was going to be okay."
Coming Together

The couple didn't have any medical supplies on hand. Thankfully, though, quite a few medical professionals live in the same apartment complex. And after a neighbor put out a call for help on a community message board, they started bringing whatever supplies they could find -- sutures, scissors, etc. -- to the couple's apartment. Greg's mother started boiling water and sterilizing the instruments.
Another neighbor opened up their second-floor apartment to the expecting parents so they could move to higher ground. Greg got in touch with an out-of-town obstetrician-friend, and they started coming up with a plan for the at-home delivery.
RELATED: Family Turns To Facebook For Rescue During Hurricane Harvey
Though everyone was doing all they could to help, the procedure was clearly going to be risky. Another neighbor was able to contact someone whose father lived across from a fire station. The man walked to the station and filled the firefighters in on the situation.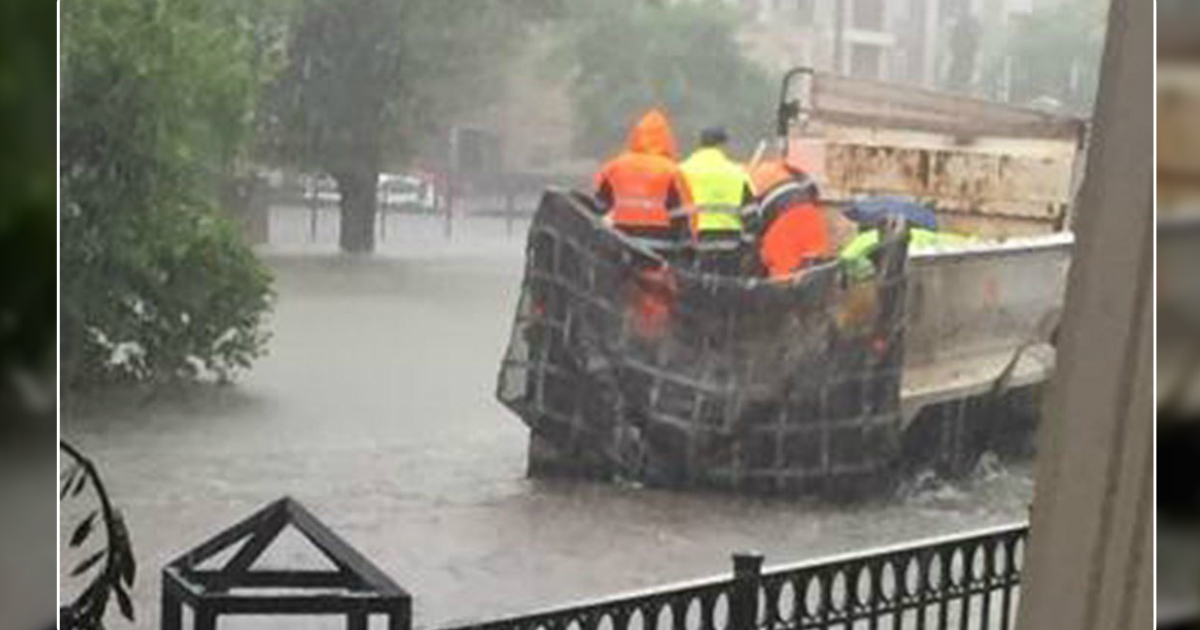 The firefighters showed up in a large dump truck. Greg had no idea the truck was there for them, so he ran out and tried to flag it down.
"They said, 'We're here for you,' " Greg recalls, still amazed.

Of course, they still had to get Andrea to the truck. And with the raging floodwaters, it would be no easy task!
Neighbors Formed A Human Chain

Greg and Andrea were delighted to have a ride to the hospital. Everyone had already gone so far above and beyond to help them. But what happened next is a beautiful display of compassion and teamwork.
RELATED: Divine Intervention Used Principal To Save Students From Flood
People rushed out into the pouring rain, and the kind neighbors formed a human chain to help get Andrea to the truck. One by one, each person assisted the woman in labor as she waded through the floodwaters.
WATCH: Neighbors Formed A Human Chain To Help Woman In Labor
ABC Breaking News
|
Latest News Videos
Greg's mom stood holding the family dog, with tears streaming down her face as she marveled over the humanity shown by relative strangers.
"I wanted so bad to be on that dump truck," she says. "They were whisked away before I knew it."
Right Place, Right Time

Thanks to the many hands that came together to help the Smiths, the dump truck successfully got the couple to the hospital. The staff gave them fresh, dry clothes to change into, and by 1:59 a.m. on Monday, their sweet daughter, Adrielle, arrived!
The little girl was healthy, but did have some complications which required her to spend some time in the intensive care unit.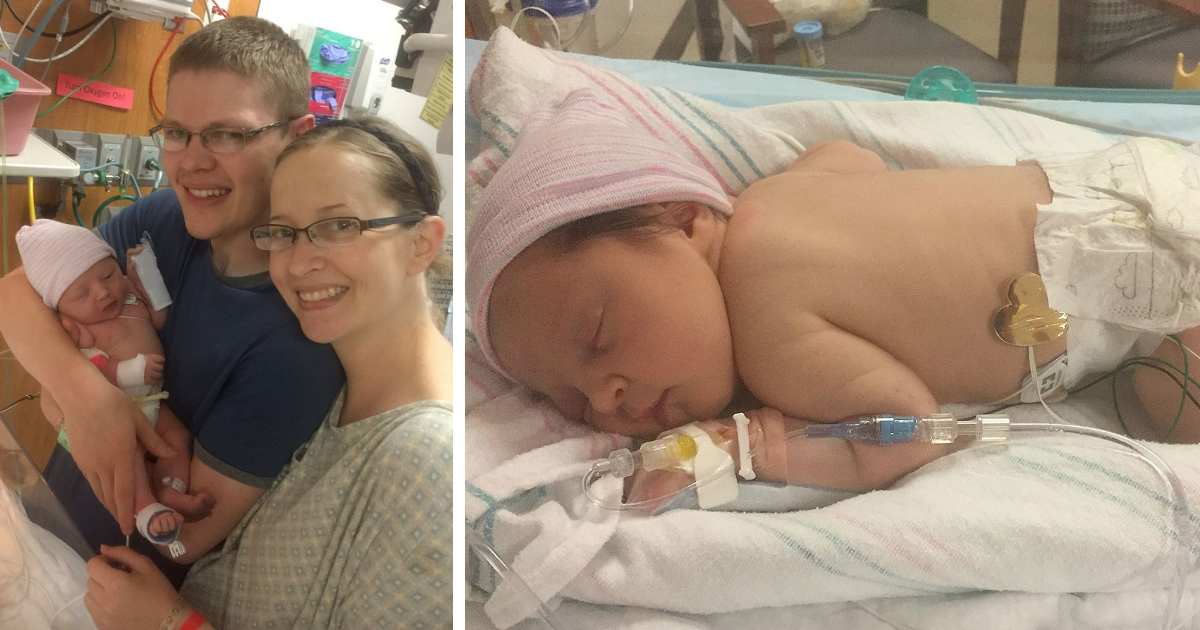 "If she were born at home, that wouldn't have been the best place for her," Greg said. "I'm so glad she is in the hospital."

Which just goes to show how God used all of those neighbors to get Greg and Andrea right where they needed to be!
"Everything about this pregnancy we said is God's will," Greg explained. "That's why her name is Adrielle. It means she belongs to God."

What a beautiful example of being the hands and feet of Jesus!
h/t: GodUpdates
YOU MAY ALSO LIKE: 12-Year-Old Girl Helps Deliver Baby Brother, Then Has Sweetest Reaction