Love One Another
For so many, Christmas is a filled with joy and excitement. As Frank Sinatra crooned, it's the time of year when the world falls in love. But what about those who are dealing with loss? For them, this "magical" time of year can be one of the most painful.
One of the most popular Christmas traditions is taking the little ones to see Santa. And there have been some pretty amazing Santa moments, like the Santa who comforted a boy with autism who worried he'd been put on the "naughty list" because of this disorder.
But one Santa is sharing a recent encounter he had "from the big chair," and it's unlike any we've ever seen. It all started when one man waited in line alone, holding a picture frame.
Read on to hear why, but make sure you have the tissue box by your side. . .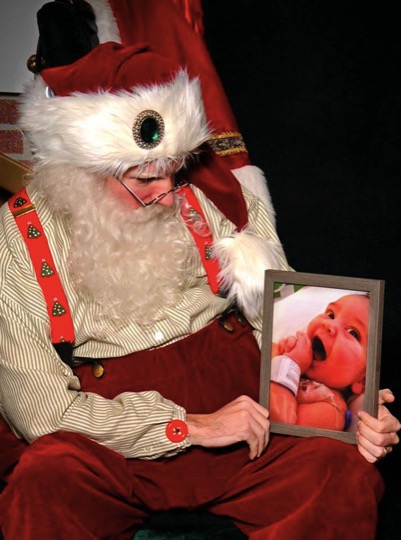 Credit: Facebook


"A man walked in today holding something in his arms. 'I have a request,' he said, turning around this picture frame. He took a moment.
'My son passed away, last year.' He choked up and couldn't finish his sentence. The entire photo set was silent.
I said, 'Absolutely.'
Without anyone saying anything, he handed me the frame and I placed it on my knee. In the photo, I could see on the little boy's armband that his first name was Hayden. I didn't ask any questions, but I am guessing that this is his first photo with Santa. The camera snap was the only sound I could hear through the entire mall. Normally, I hear all kinds of music and sounds, but it was absolutely silent.
After a handful of clicks, we walked over to the screen and he pointed, saying, 'That's the one.'
The girl working the computer printed him a full photo package and he pulled out his wallet, saying that this was going to be his gift to his wife. We gave him the printed package, telling him that it was a gift and that we would be praying for his family, this Christmas. He grabbed my hand and pulled me in and hugged me, then turned around and left.
As he walked out, we all had tears in our eyes. I'm sharing this to remind us all that Christmastime is unbelievably hard for some families. Pray for the brokenhearted. Smile at people. Just be kind. Love one another."
What a powerful reminder that you never know what the person next to you is going through. Some of the folks we encounter may be having their best day, but some will be having their worst. And at Christmas, while some will be enjoying all of the cheer it brings, there are others who will be struggling just to get through. Let's pray for those people, that God will wrap them in His loving arms and bring them peace.
And if you're struggling this season, here is a story about preparing for the holidays when your heart is broken.
Credit: Facebook
h/t: GodUpdates