An Ohio sanitation worker, Josh Kerns, discovered a discarded birthday gift as he was emptying the trash on his route, and he went to the trouble of finding the card's recipient!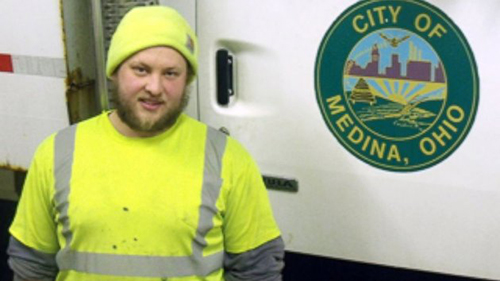 The owner of the card, Lucy Hamer, had accidentally thrown the card away when she tossed a box that had held presents sent to her son from her sister-in-law. She wasn't even aware of its existence, but Josh noticed the card and thought it looked important.
Josh held on to the card and kept it safe during his route that day, and when his route was complete, he opened it and discovered $50 inside.
"In this day and age, $50 is a lot of money," Josh said. "It's a tank of gas. We had to take it back to her."
Josh and his supervisor went back to Lucy's house and returned the $50, along with the card.
Lucy said she knew that her sister-in-law would have wondered why she didn't thank her for the card, and added, "and I might have been wondering why she didn't send one. It could have been awkward."
Because one man took the time to do what was right, Lucy has her birthday gift, money for a tank of gas, AND family harmony. ;) Thank God for kind people who go the extra mile for others.
credit: GMA