A small business owner, George "Sparky" Watts was about to lose his diner until a group of strangers blessed him with the most unique way to save his diner.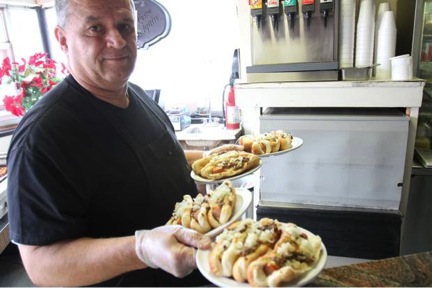 They heard Sparky was struggling financially, and they staged a flash mob. But there was no dancing or singing at this flash mob, just lots of ordering . . . and lots of eating! The flash mob, or should we say "cash" mob bought paper plates heaped with hot dogs, loaded with mustard, chopped onions, meat sauce and Sparky's secret ingredient, celery salt.
The campaign to save Sparky's diner got underway when he confided to a loyal customer, Janis Mooradian, that he would probably have to close because business had been so poor. Sparky's Coney Island System diner has been a staple in East Providence, Rhode Island since the 1940s, and his loyal customer couldn't bear the thought of losing the local landmark.
In addition to the large group of cash mob participants who filled his dinner, Sparky was also surprised by a diner mini-makeover worthy of a reality TV show.
Sparky marveled at the overflowing diner of supporters saying, "I'm making a lot of new friends".
What a wonderful reminder of all the kind people in our world, and a beautiful example of how God's timing is perfect!
Credit: Providence Journal