"I am NOT lost."
Normally, when we hear something is 'lost' that's a bad thing. But not this time!
Anonymous people are wrapping the trees with scarves, and before you scratch your head wondering why let me tell you this--it's not to make the trees toasty!
These kind people are making sure that complete strangers, many who are kids, will stay warm during the freezing winter days.
Thank God for these Good Samaritans!
1 Thessalonians 5:16-18 says, "Be joyful always; pray continually; give thanks in all circumstances, for this is God's will for you in Christ Jesus."
Hats and scarves have been spotted around several areas that are experiencing frigid temperatures this winter. The clothes are showing up in cities from up in Canada to down in North Carolina. They have little messages attached letting people know that the warm hats, gloves and scarves aren't lost, and can be taken by anyone who needs them--wow!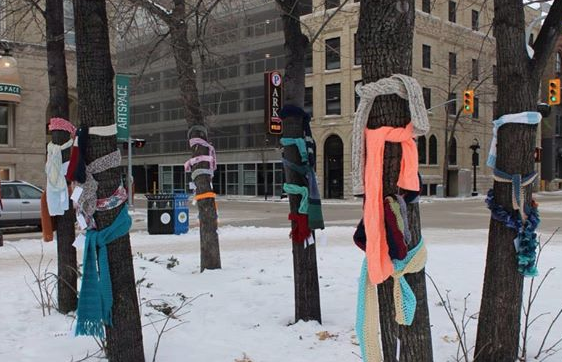 "I am not lost!"
Is the message attached to a scarf in Wilmington, DE. It reads,
"If you are stuck out in the cold, please take this to keep warm!"
The group responsible for that particular item, Scarves in the Port City, says that their aim is to account for those who need a helping hand during the winter months in a simple and effective way.
"We collect and distribute scarves for the homeless during inclement weather," the group, whose representative told The Huffington Post that they've distributed hundreds of scarves, wrote on their Facebook page. "We hope to help create awareness of the difference kindness can make to people's attitudes, feelings and actions towards themselves and others when it's embraced as a way of life."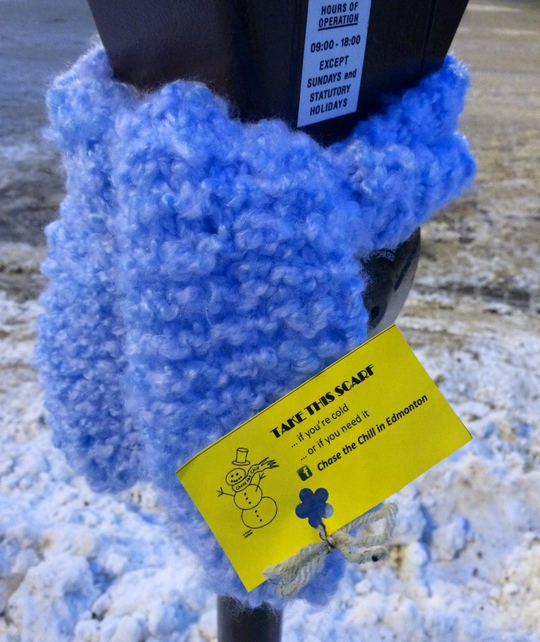 Another group involved, Chase the Chill, is dedicated to keeping the homeless warm throughout the winter by "yarn-bombing," i.e. leaving colorful knitted or crocheted creations around cities, for the taking, according to their Facebook page. While the group started in Pennsylvania, the idea has traveled to cities across North America. Their work, one member says, makes warm clothing readily available for those in need.
"It gets right to the people who want it," Wendy Grahl, a member of "Chase the Chill" in Edmonton which distributed about 250 scarves last year, told Metro News. "If you're homeless and it's 30 below a scarf is going to be welcome."
What a wonderful world we'd live in if EVERYONE did simple acts of kindness for complete strangers in need. Thank God for our anonymous knitters and creators as they continue such a 'warm' ministry. (no pun intended - LOL)
Check out how this humble trash man helps the homeless:
HT: GodUpdates
Here is a pay-it-forward chain that has lasted for years!