God Protects A Baby Thrown 25 Feet In A Crash!
There are certain things you'd never expect anyone to survive. Hearing that a 6-month-old baby was tossed from his car seat and thrown 25 feet into the woods, you'd probably expect the worst. But God's powers will always defy our expectations!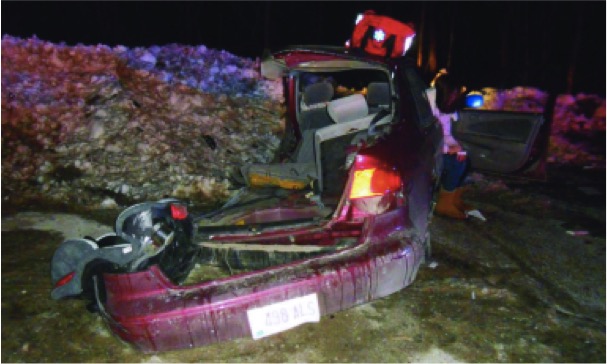 Credit: Keepmecurrent.com
19-year-old Chynna Blaney only took her eyes off the road briefly when looking down to adjust the volume on her GPS. But that's all it took to miss something very important. In that short time, Chynna failed to notice the upcoming stop sign. By the time she did see the sign, she was unable to stop.
And so, her Toyota Corolla continued on into the intersection just as 35-year-old Angie Horler was coming through in her Ford pickup truck.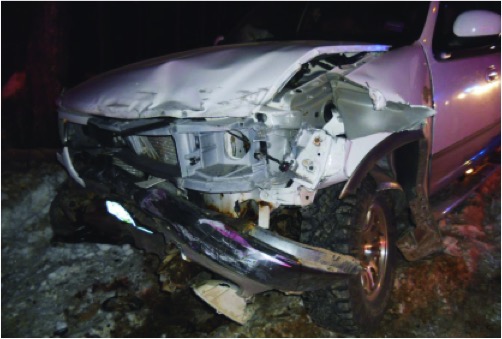 Credit: Keepmecurrent.com
The collision that followed was terrifying enough. But what was even more horrifying was that both women had very special passengers -- their children.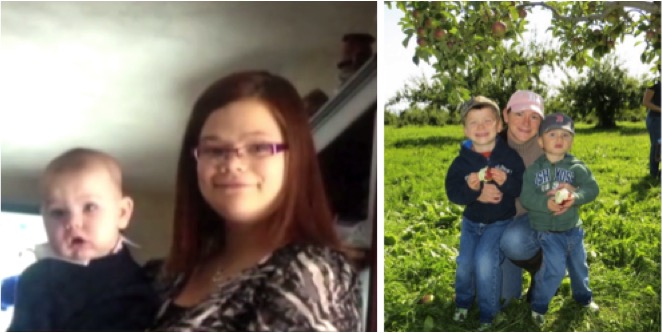 Chynna with Gabriel (left) and Angie with her 2 sons (right) Credit: ABC News / Keepmecurrent.com
And to make matters worse, Angie witnessed something flying out of the Toyota -- soaring over a snowbank, towards the woods and out of sight. What she didn't know was that something was, in fact, Chynna's 6-month-old son, Gabriel.
"She didn't know it was a baby, but she knew it was something odd."said Captain Don Goulet who was one of the responding officers at the scene.
The crash left Chynna injured and trapped inside her vehicle.
Angie was shook up, but in much better shape. She checked on her own two sons -- ages 2 and 5 -- to be sure they were ok. Once she confirmed they were okay and while Chynna was struggling to get free from her vehicle, Angie took off over the snowdrift, following the cries of a baby.
She found little Gabriel laying in the snow. He'd been thrown 25 feet from the car.
Despite having been strapped into his rear-facing carseat, Captain Goulet surmised that the impact from the crash must have loosened the straps, causing the tiny tot to fly out of the seat. The seat itself was found outside of Chynna's Toyota, with the seatbelt still attached.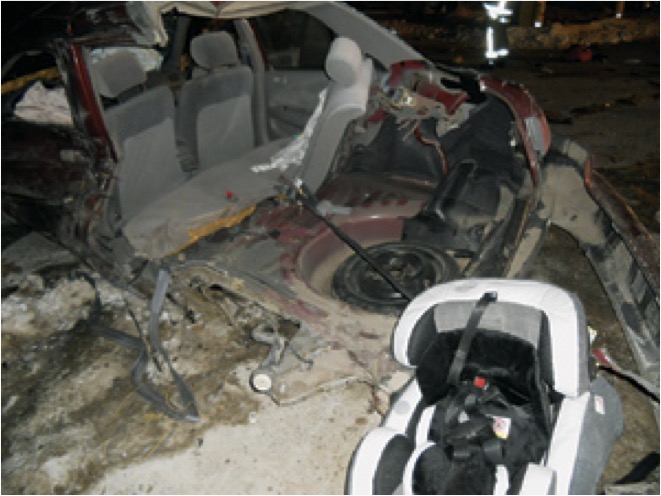 Credit: Keepmecurrent.com
Angie found Gabriel partially buried in the snow, and tenderly picked up the crying baby, taking him to see his injured mother so she would know he was safe. She then cradled little Gabriel while Chynna was tended to by off-duty Deputy Chief Craig Messinger, who happened upon the scene while on his way to pick up his daughter. He describes what it was like arriving on the scene, saying,
"There was a car that literally was torn apart with a mom in the front seat trying to get out. And she was saying, 'Where's my baby, where's my baby?' And I looked in the back where the backseat should have been and there was an empty car seat on the ground."
Craig says this crash ranks in the top 5 worst crashes he's seen over his 30-year career. He goes on to say,

"So I feared, being an emergency medical worker, the worst. And as I was getting my gear on and talking on the radio, Mrs. Horler put her son down and ran over the snowbank and pulled the kid out of the woods."
Meanwhile, two other Good Samaritans, Darlene and John McCall, stopped to help. They rounded up Angie, her two sons and baby Gabriel inside their vehicle, giving them a warm place to wait for the ambulance.
Once help did arrive, Angie was sent to the hospital and treated for a minor injury. Her two children were unharmed. Chynna and baby Gabriel sustained more serious injuries, but nothing even close to the severity you'd expect from such awful wreckage, especially given that little Gabriel had been thrown 25 feet, completely unprotected.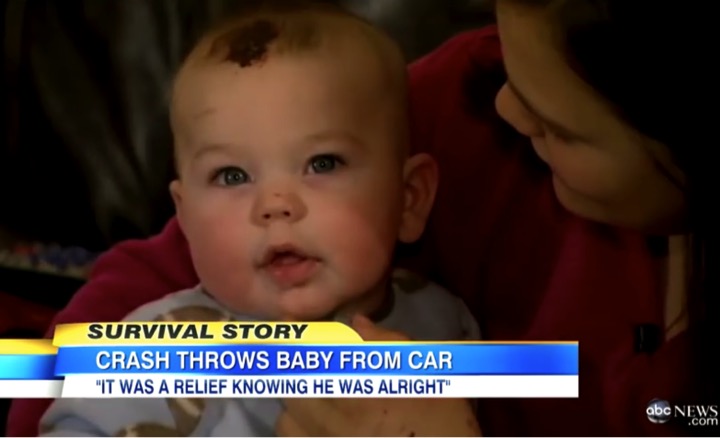 Credit: ABC News
In fact, when Gabriel's grandfather, Harold, arrived at the hospital, he was utterly relieved to find the baby boy chewing on a pacifier, looking around. Both he and Chynna are incredibly grateful for the miracle they were given.

"I think it was a lot of...a lot of powers above that was watching over Gabriel and Chynna at the same time," Harold recalls. "Everything happens for a reason. There's definitely gotta be somebody above watching over us."
Likewise, all who were at the scene are amazed at the incredible outcome. Angie, the driver of the truck that hit Chynna's car, knows just who to thank. She says,
"I am a Christian, and I believe God's hand was in every single detail of that accident from beginning to end. You look at the vehicles, and we all walked away. The fact that Chynna and Gabriel what they went through and they have no long-term injuries, I'm so thankful for all of the angels there that night protecting us."
Angie, Darlene and John were later honored by the Raymond Fire-Rescue Department with the annual community service award for their kindness and bravery at the scene of the accident. Praise God for His protection over these lives. We know He has a greater purpose for all of them!
You can watch the news segment below:
h/t: GodUpdates