Thomas Mitchell fills in as a substitute bus driver from time to time for the school system in Clarksville, Tennessee. But he also takes the cake on loving thy neighbor. After watching a mom on his route struggle to wheel her special needs daughter out to the bus stop, he promised to do something about it. And when he showed up at her house one day, the kind school bus driver built a wheelchair ramp that left both mom and daughter in awe!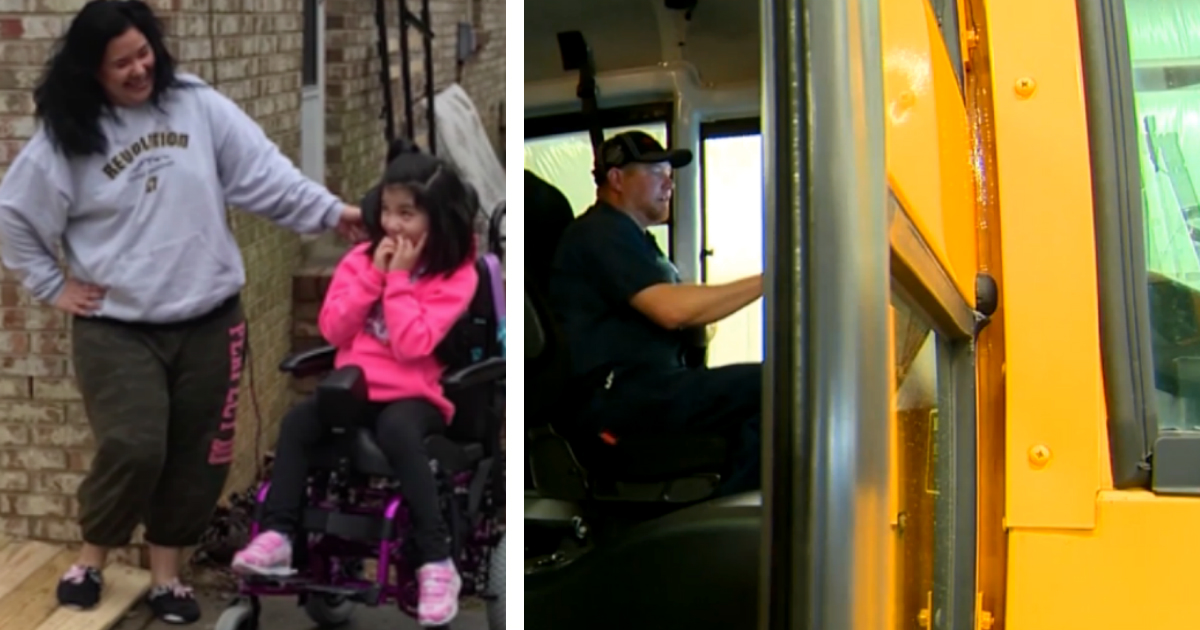 Credit: CBS News
A Neighbor In Need
Thomas knows his way around a school bus. He works as a mechanic for the Clarksville-Montgomery County School System (CMCSS), but also chips in as a fill-in school bus driver when they need him. When driving his route, he noticed Verna DeSpain, a single mother of two. Verna was wrestling to get her 10-year-old daughter's wheelchair down the stone steps of the front porch.
For a year, the mom had been using a flimsy, portable ramp.



"The ramp they were using was like a temporary aluminum ramp, like a folding ramp," Thomas recalled. "It didn't go all the way to the top step."
Verna didn't have the money for a better option, but admits the one she was using caused a lot of problems.
"It worked better than not having one at all, but we had to put it on the second step and it was flimsy," she explained. "It wasn't the best or the safest."
RELATED: School bus driver saves the day when his students are threatened
In fact, Verna even hurt her shoulder carrying her daughter a few months back. And the image of her wrestling with the wheelchair is a visual that stayed with Thomas all day. He mentally promised to do something about it.
"There was just hardly any room for her to maneuver this wheelchair," he said. "It just didn't seem right for somebody to have to struggle like that."
Watch the news story below:
So, Thomas gave Verna a call. He offered to build her daughter, Lydia, a wheelchair ramp completely free of charge.
"I was just so shocked," Verna said. "I got a call from him out of the blue."
Thomas got to work, designing the plans and recruiting help from a few construction worker buddies. He shared his plans with his local Lowes, and the home improvement store donated all of the materials needed for the job.
RELATED: School bus driver hunts down little boy crying in the freezing cold
The planning stage took a few months. But once everything was set, Thomas showed up at Verna's house with his crew and materials. He knocked on the door, ready to make good on his promise.
"I thought it was going to be all day," Verna said. "So when he told me we were done I was just shocked and actually very impressed.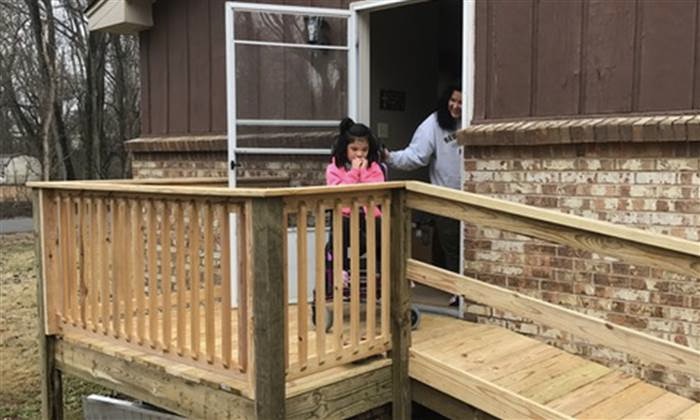 Credit: Facebook / Clarksville-Montgomery County School System
In just 3 hours, the school bus driver built a wheelchair ramp that left Verna and Lydia in awe (with the help of his buddies, of course!).
"They went above and beyond what we were expecting," Verna gushed.
RELATED: Bus driver's kindness for a desperate woman will restore your faith in humanity
Verna called Thomas' selfless act a major blessing. In fact, everyone has been blown away by the school bus driver's kindness. But Thomas is just as humble and tender-hearted as you'd expect.
"Everybody should be helping out their neighbor, and so many people just drive by," he said. "So many people comment, you know, that it's such a great thing. I challenge them to do the same. There's no greater feeling."

Hear Thomas talk about the project in the video below:
Now this is putting your God-given talents to work for His purpose. What an inspiration, and we pray everyone who hears this story will take Thomas up on his challenge to do for others!
"Carry each other's burdens, and in this way you will fulfill the law of Christ." Galatians 6:2
h/t: GodUpdates
A school bus driver hunts down a little boy crying in the freezing cold to do this!