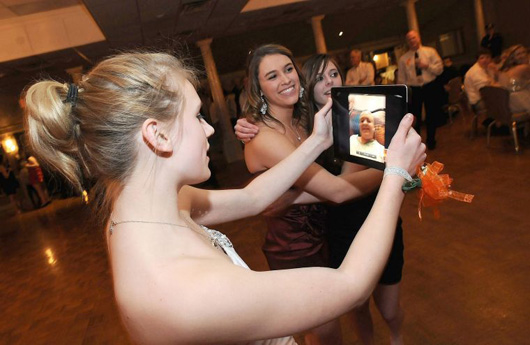 Cody DesBiens is an 18 year old boy who is suffering from leukemia. He needs to stay in his hospital bed, receive treatment and rest. But, somehow North Attleboro High School senior was still able to attend a formal dance thrown by his classmates!
Cody was able to attend the dance thanks to technology! Thanks to Skype, an online video chatting program, he was able to socialize with his teachers and classmates the entire night.
He was even able to dance with his long-time girlfriend Bryanna Haskell. She held the iPad that Cody was chatting to everyone on and twirled around the dance floor.
"It feels awesome that there's so much support from all his friends," said Haskell.
Cody has been facing many hardships in his life. He wanted to attend the normal senior prom in May, but his condition was too poor for the doctors to allow that. His classmates, with much generosity, decided to throw a formal dance in his honor. Because of complications, he wasn't able to attend it either, but he was there virtually.
Cody is blessed to have such a caring family, class and girlfriend. Keep him in your prayers as he continues his treatment. Hopefully he can attend his graduation in the spring!