Bieber's A Believer!
While you may or may not be one of the many struck with Bieber Fever, you may be glad to hear that the star has become a Christian! And love him or hate him, you can't deny that this is a step in the right direction for one of today's leading icons to the Millennials. Especially considering the Pew Research Center has identified millennials as being far less religious than older generations.
Bieber's own mother is a devout Christian, and was baptized a year ago by pastor Carl Lentz of Hillsong Church in New York City. And it looks like her good example is rubbing off. Not long ago, Bieber took to Instagram and began posting about his walk with the Lord.
The star posted a picture of himself enjoying some solitude under a tree. He includes a version of Psalms 43 in the caption -- "Vindicate me, my god, and plead my cause against an unfaithful nation. Rescue me from those who are deceitful and wicked." But it's what Bieber says beneath the verse that's especially encouraging:
"I'm not religious nor do I think I have ANYTHING figured out that's why I call out on God to help me through what I can't do on my own. Developing my relationship with God has been the coolest thing I've experienced, to know that I'm not alone and I don't have to live in fear. Never feel like I'm pushing anything on u but sharing the good news I've felt in my own life."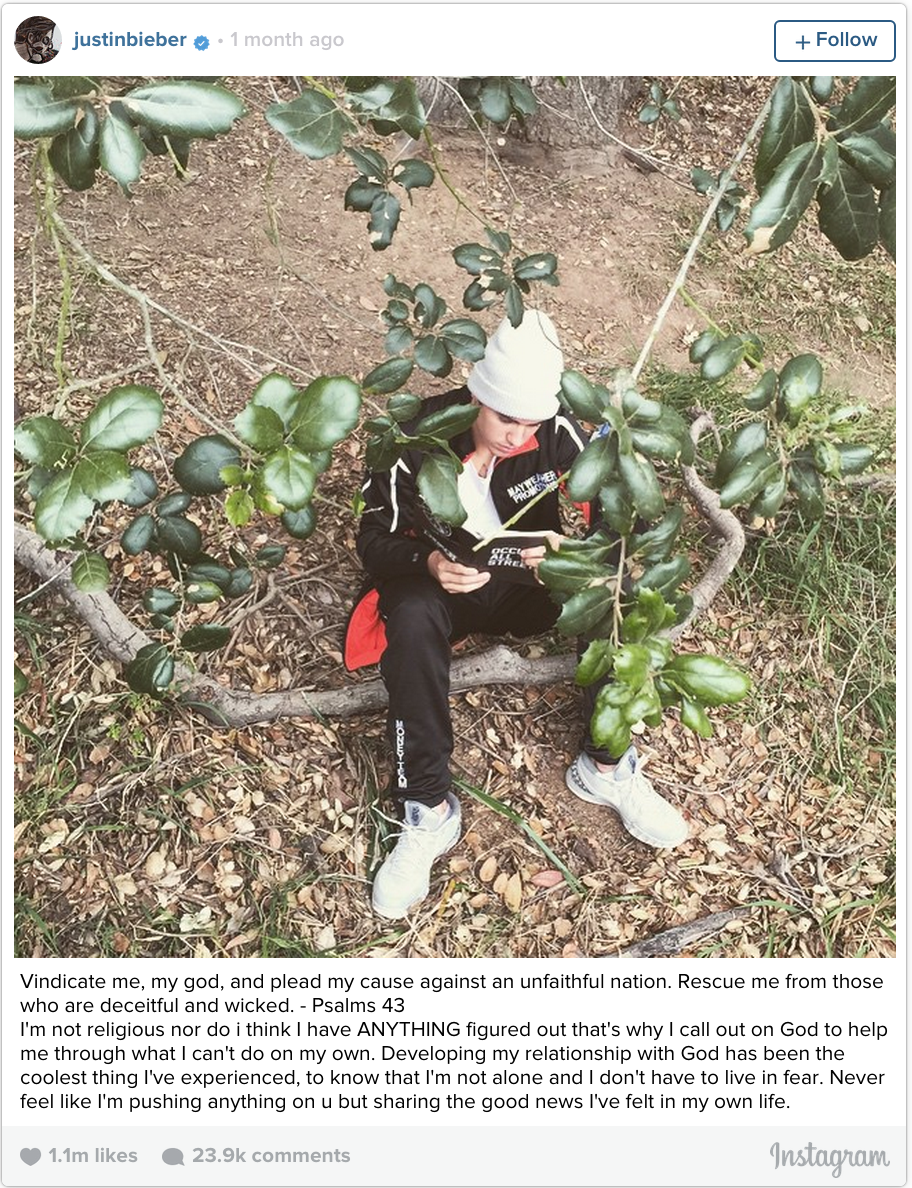 Bieber's Instagram account also reveals that he's been jamming to Christian music.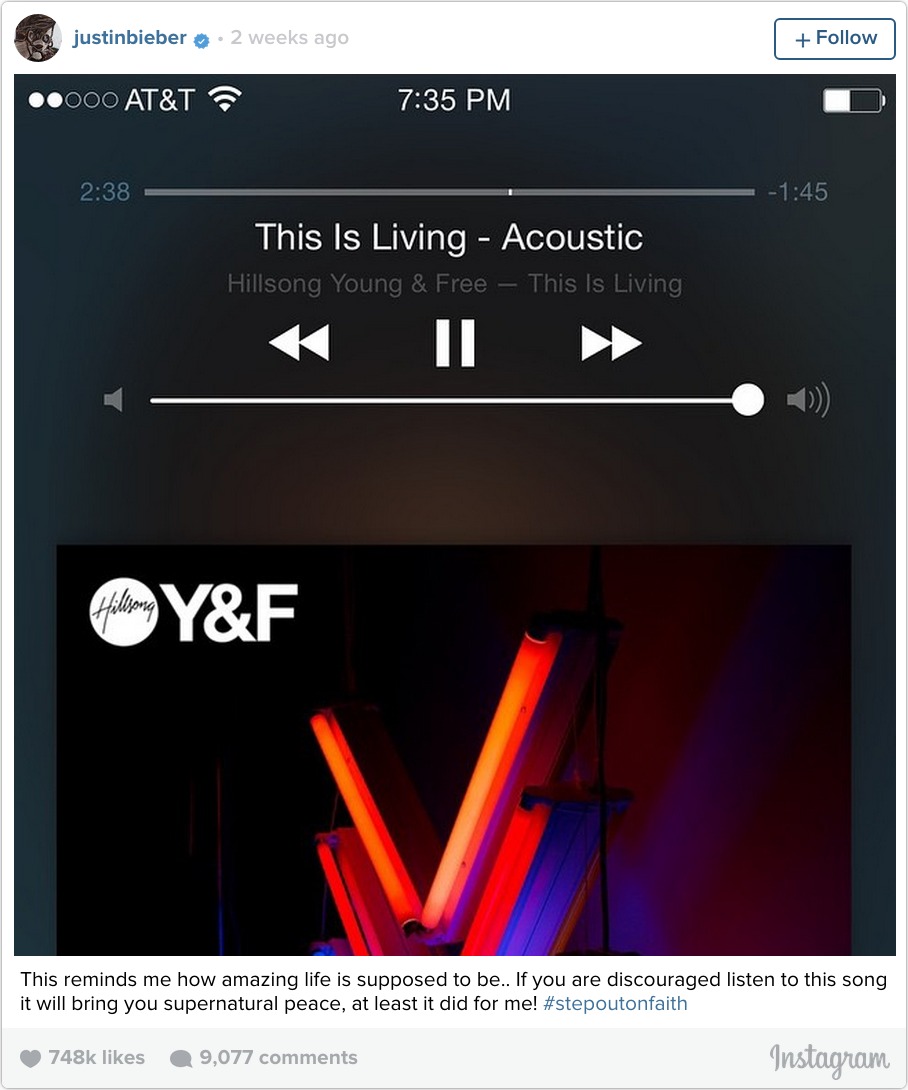 And with over 31 million Instagram followers, even subtle references, like the one below, just may be inspiring the younger generation to seek God.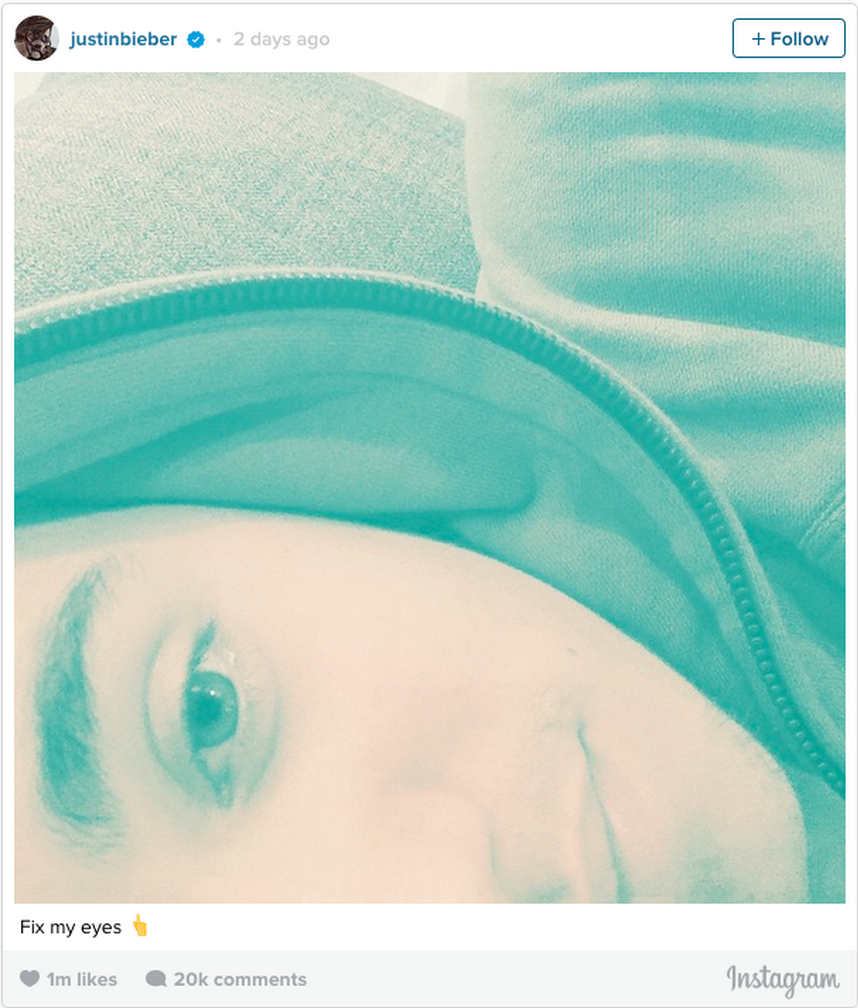 And aside from the Instagram references, it does truly appear as though Justin Bieber is trying to nourish his newfound faith. The Internet was abuzz when he recently traveled to Sydney, Australia. His reason for visiting was to attend the annual Sydney Hillsong conference. This is a week of praise, worship, prayer and teachings with the mission of empowering and building up the local and global church. A spokesperson from Hillsong said:
"People come from across the world to Sydney each year to attend Hillsong Conference. Justin is here – like tens of thousands of others – as a delegate who is seeking to build stronger foundations into his life. He is not participating in the conference in any other capacity. Out of respect for his privacy we will not be making further comments. The purpose of the conference is to honour God, and our hope for all attending is that their lives are enriched."
So, let's pray that this young man, who has such a strong influence over the younger generations, will embrace the call of God. Let's pray he uses this influence to for God's glory, and that he may inspire the youth of today to seek God and find faith.
What this star said on stage will bring you to tears!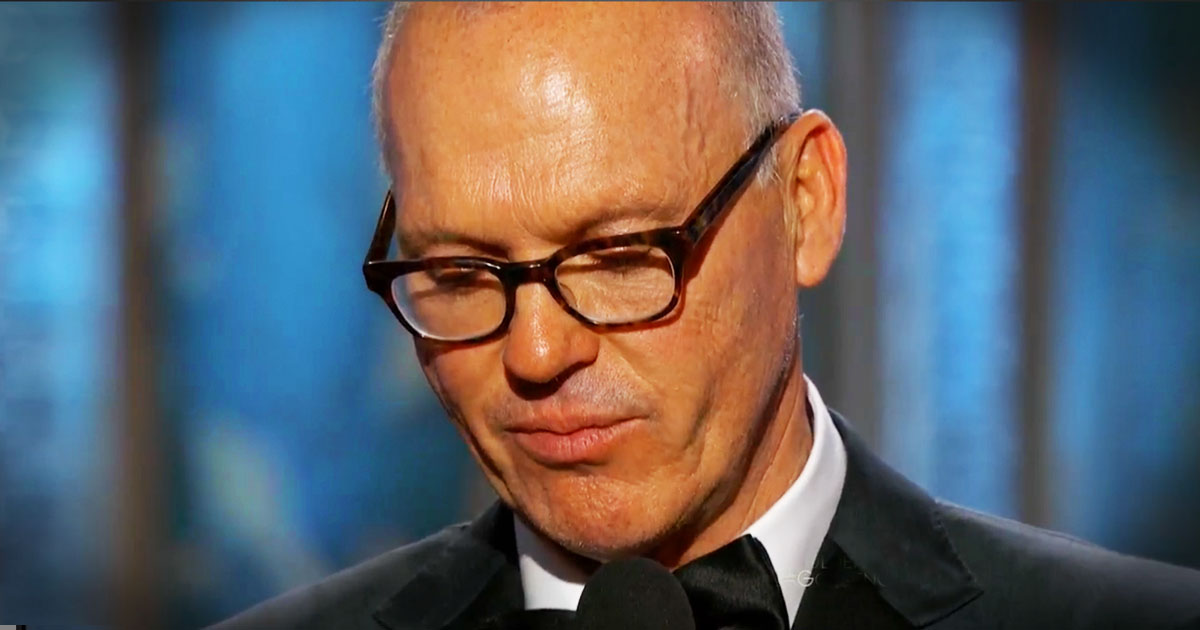 Credit: GodUpdates
Here is a celebrity who is not afraid to speak out about Christian marriage!