A hardworking teen from Long Island, New York, inspired many by earning something extraordinary - he was accepted into all eight Ivy League colleges. Seventeen year old Kwasi Enin honored his parents when he said they are the secret ingredients to his success!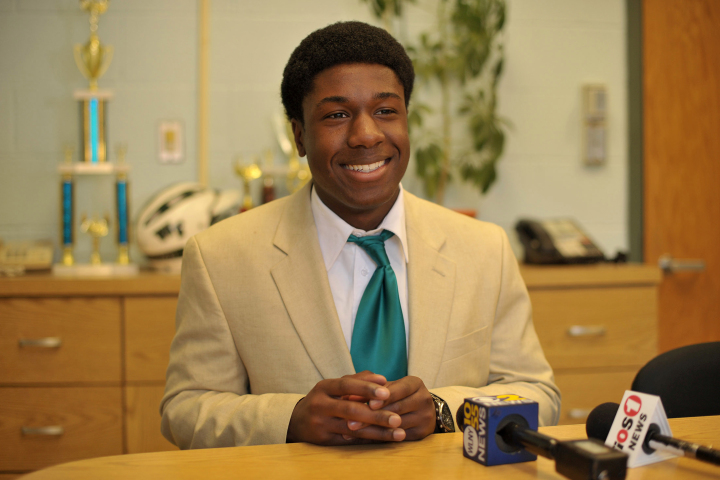 "They were helicopter parents. They monitored everything. They said, 'You have a mind, and you can do it. Always do your best,' " said Kwasi
Kwasi's parents have hovered over him pouring out motivation and direction. They have seen great potential in their son, and they did not allow him to settle for anything less than what he was capable of, even if that meant encouraging him to go all the way, "They taught me 95 percent isn't good enough . . . I'm proud, honored, appreciative." Kwasi said.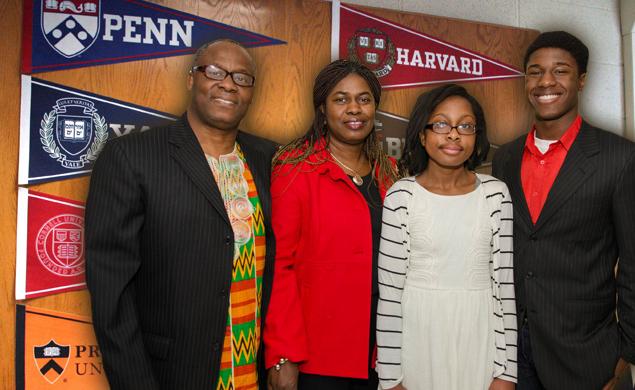 Kwasi's parents are immigrants from Ghana, and are both nurses. They appreciate every single opportunity, and they teach their son to always remember how blessed he is to be in the United States.
"I say, ' You have all the resources in the world. Whatever you need, you have it here. You don't know how lucky you are to be in America. You have no idea how blessed you are. I'm telling you,' " said Ebenezer Enin, Kwasi's dad. "I tell him academically, performance-wise, school-wise, you've got to stay at the top of the game. He's been disciplined; he's been trained; he's been guided. We've motivated him," he said.
Kwasi sings in the school orchestra, plays viola, and puts his musical talent to use at his church. He is also a track and field athlete, and a volunteer at his local hospital.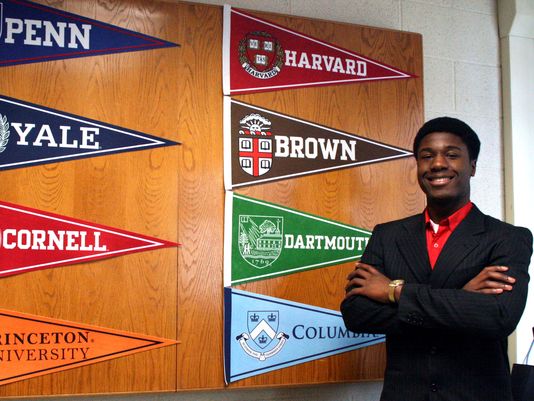 While most students apply to many Ivy League colleges for bragging rights, Kwasi applied to so many schools because he was concerned that he wouldn't get into many. "That was the logic, because you know how hard they are to get into . . . It was the biggest surprise," said Enin. His hard work paid off and he was accepted into all 12 schools he applied to. He was most excited about his top choice- Yale!
Kwasi not just keeping the glory of such an accomplishment to himself, he is inspiring his classmates, and his character out shines his grades, "He's cool and he's blessed. He's definitely a hard worker. He was always in class earlier than everyone else. He's kind and considerate — the kind of person that everyone likes." said Marcus Mingo a junior at Kwasi's high school.
Teenager, Devin Robinson said, "He's really ambitious. He inspires people because he makes you think you can do whatever you want to do. It makes me want to work a lot harder and get into a good school."
Kwasi also plays video games in his spare time. But not too much - just enough to clear his mind.
Kwasi wants to follow in his parent's footsteps and enter into the medical field to become a doctor.
"We've directed him to be a high achiever. And he knows this is what's expected of him. No two ways," Kwasi's dad Ebenezer said. "I tell [him] you're not going to see the rewards now. You're going to see them in the future. Be patient, and sacrifice. A lot of kids say, 'Oh, come on, Dad, I don't want to do that,' " he said.
He went on to confirm what we know is true, "Every kid is special, but if they do the right things, they can get to where he is."
Source: USA Today
James 2:17-18
So you see, faith by itself isn't enough. Unless it produces good deeds, it is dead and useless.
Now someone may argue, "Some people have faith; others have good deeds." But I say, "How can you show me your faith if you don't have good deeds? I will show you my faith by my good deeds."