One of the most famous basketball players in the New Castle's history was paralyzed in a wheelchair one day… and was walking the next. Citizens of New Castle simply refer to it as "The Miracle."
Joel Haler woke up in his dorm room at Hope College last October totally paralyzed.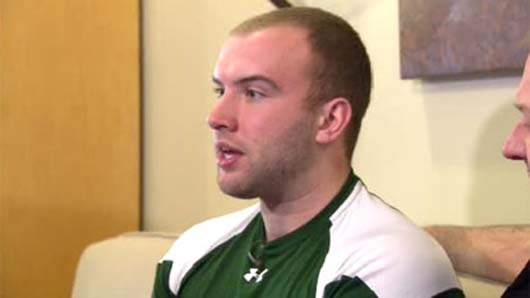 "I had lost everything. Paralyzed from the waist down. 'Dad, I have no movement, no feeling, no nothing. You've got to come get me'," he remembered.
Four hospitals later, the only way he could walk was through Robotic Walking Therapy.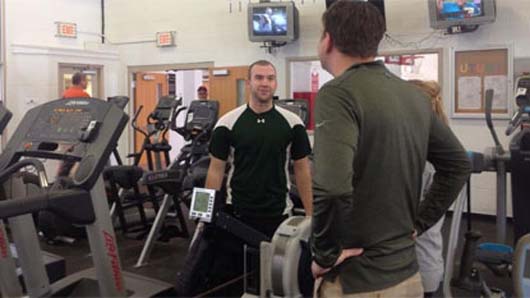 "This past Tuesday, I was doing the Robotic walk and lasted ten minutes," Joel said. After that, he gave up. Joel wanted to accept the inevitable and canceled his next Robotic Walking Therapy appointment.
Then, the night before his cancelled appointment, he woke up to a terrible pain.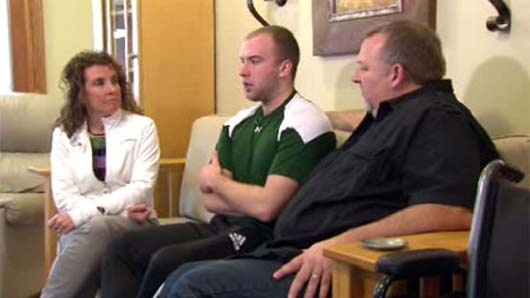 "As it continued to move up my legs, it became more and more painful and it took an hour-and-a-half to reach my hips," Joel recalled.
An hour-and-a-half later, the excruciating pain left him with an unusual feeling… in his legs.
"I wiggled my toes and I thought, 'Oh my gosh.' Then I walked into my parents' room. 'Mom and dad, look!'," he said proudly.
"He said something and I was like, 'Joel! Joel! You're walking! You're walking!' We jumped out of bed, embraced, cried and hugged," Joel's mom Karen remembered.
"I burst into tears. It's hard seeing your son not be able to walk, but he was standing there, walking," Joel's father Eric said, tearfully.
It was Thursday, January 23, when he could finally walk. That date made perfect sense to Joel. He had dreamt of a calendar that only said "J 23." He didn't know what to make of it until "a little boy at church, four years old, came up to me and says, you will walk on a Thursday," Joel recalled.
So the 20-year-old college student, who could only walk with the aid of a robot on Tuesday, was walking on his own on Thursday.
"This is all God. I'm just being used," he said.
In a blink, Joel had lost everything. But then, just as quickly, God provided the young man with a miracle. THE miracle!
Praise God for His divine intervention, helping this young man walk and find hope again.
(via wthr.com)