Kyle Gearwar graduated at the top of his class at Fair Haven Union High School, and he gives all the glory to Jesus. But when he wrote a speech to share his testimony to his graduation class, school officials came against it. Here is the portion of the powerful speech this mighty young man of God had to leave out: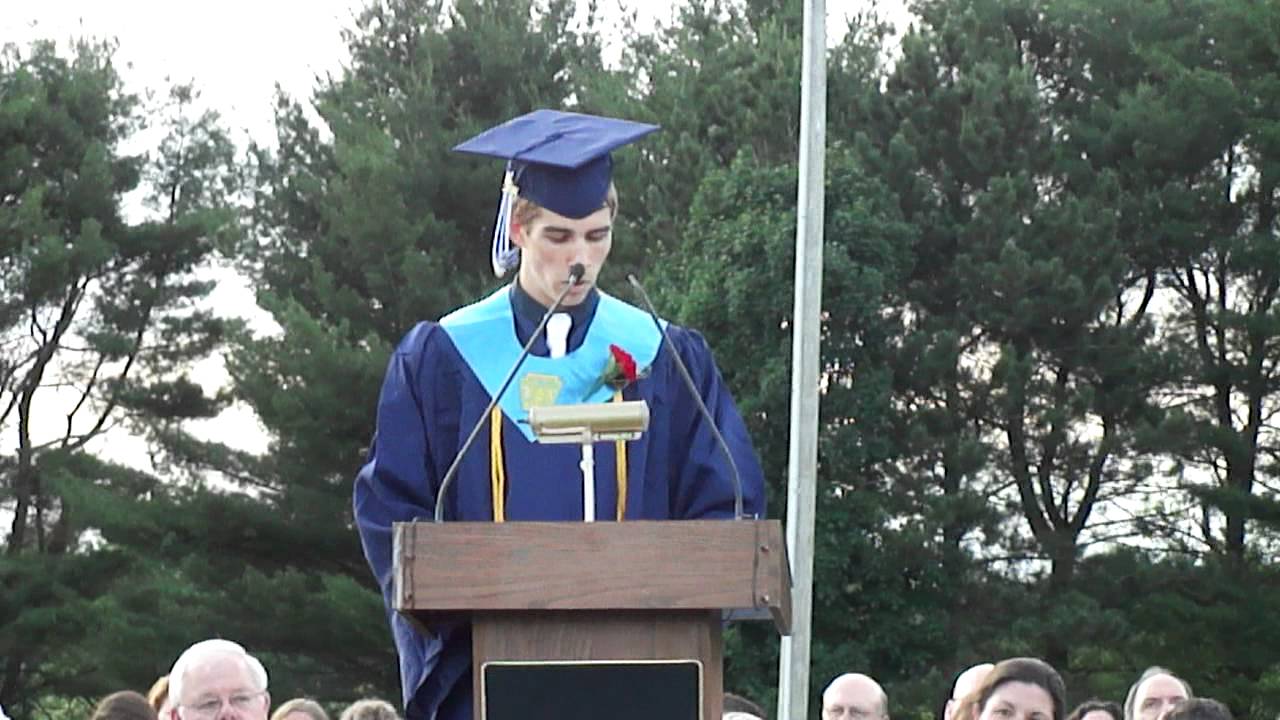 I thank God for everything He has done for me and the strength He has given me to resist the urge to defy the command the school has given me. Again thank you for coming tonight and Congratulations to the 2011 Fair Haven Union High School Graduates.


Now I would like to share a story, actually the testimony of my life, to show you what I have gone through and how I got here. Some of you may be offended with this story but this is what I feel God has laid on my heart and is a message this school needs to hear. I have grown up a in a Christian home all my life thanks to my amazing parents, but as many of these people can vouch for, I do not always act like I am Born Again. Thankfully, Jesus said I am not perfect and God forgives me for every sin I commit.
My testimony is this. For the last few weeks I was lost in anger and depression. I kept it hidden quite well from most though. I was so burdened with grief and angst that I couldn't focus on my life or those around me. Finally it all broke loose and I couldn't contain myself any longer. I lashed out in anger at some of my best friends and cried for hours on end. I was so broken that I called a friend and mentor of mine who went through some of the same issues as I have. I begged him to get rid of this hate I had for myself and those that had done me wrong. He reminded me of the song that includes these words, "Turn your eyes upon Jesus, look full in his beautiful face, and the cares of this world will grow strangely dim."
The following day I picked up a book by a pastor out of Texas. He talks about letting go of the past and looking for the future God has for those who seek him. The reason I acted the way I have for so long was because I harbored this extreme dislike for myself and held onto the things people have said and done to me. But as soon as I gave this to God and let him fight my battles my entire life has changed.
I don't dwell on the past. I have peace and can finally enjoy every moment God has given me, good or bad. I wouldn't be standing before you without the blessings God has given me through my tough situations. He is the reason I am the man I am today, made new through Jesus death on the cross.


I have my own unique issues and problems, but they can include others like substance abuse, relationship problems, anger, pride, or depression. The way to escape this is through submitting to God. I can't get through all my difficulties in my own strength, but with God I can, and there are many people in this world whose lives have changed because of Him.
Jeremiah 29:11 says "For I know the plans I have for you, declares the Lord, they are plans for good and not for evil, to give you a hope and a future." I needed to let go of the things that I wasn't proud of and give my life to the One who created me. God knew me before I was born and wanted a relationship with me from that very day. And trust me it was well worth the effort to submit to God and not let the world get the best of me.


Now I can live in freedom from sin.

Now I can look at each new day with a smile.
Now I can face each trouble and problem with a glad heart.
Now I can live with God and not try to barely survive without Him.
Amen.


Again thank you for coming tonight and Congratulations to the 2011 Fair Haven Union High School Graduates.
6 Blessed are those who hunger and thirst for righteousness, For they shall be filled. 7 Blessed are the merciful, For they shall obtain mercy. 8 Blessed are the pure in heart, For they shall see God. 9 Blessed are the peacemakers, For they shall be called sons of God. 10 Blessed are those who are persecuted for righteousness' sake, For theirs is the kingdom of heaven. 11 "Blessed are you when they revile and persecute you, and say all kinds of evil against you falsely for My sake. 12 Rejoice and be exceedingly glad, for great is your reward in heaven, for so they persecuted the prophets who were before you. 13 "You are the salt of the earth; but if the salt loses its flavor, how shall it be seasoned? It is then good for nothing but to be thrown out and trampled underfoot by men. 14You are the light of the world. A city that is set on a hill cannot be hidden. 15 Nor do they light a lamp and put it under a basket, but on a lampstand, and it gives light to all who are in the house.16 Let your light so shine before men, that they may see your good works and glorify your Father in heaven.
Credit: Rutland Herald