Last Friday, during a Tim McGraw concert near Cleveland, OH, a cancer patient was given the gift of hope by Tim McGraw himself. Amanda McGraw (no relation!) traveled to Blossom Music Center to see Tim on his Two Lanes of Freedom Tour. She fought through rain, crowds and lines to see the show… but something she NEVER expected happened!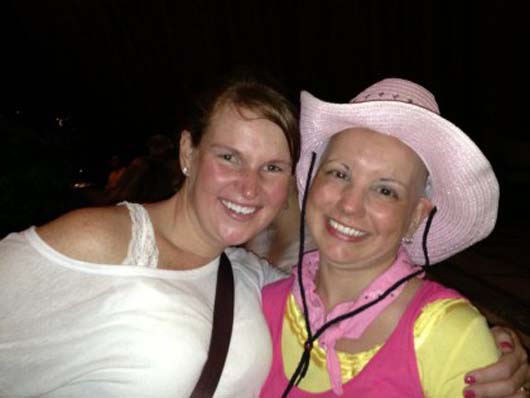 "I have been a fan of Tim McGraw for 20 years now. I have been lucky enough to go to 4 of his concerts before. I almost did not even make it to this one. When I saw Tim was coming in May I considered going but thought I might not be feeling well enough (knowing it would be around my 6th or 7th chemo treatment). I decided I would just go next year. Things changed when I saw a picture on Facebook of Tim kissing a girl's bald head. I read she has been battling breast cancer (like myself) for 7 months. I thought, if she can make it to a concert, so can I. I got a parking pass so my cousin-in-law Emily and I could park close. I even bought pit tickets so we could have the best seats!
Amanda never goes outside without her wig on. For the concert, however, she decided to be brave. She left her wig at home, bought a bright pink cowboy hat and was ready to rock!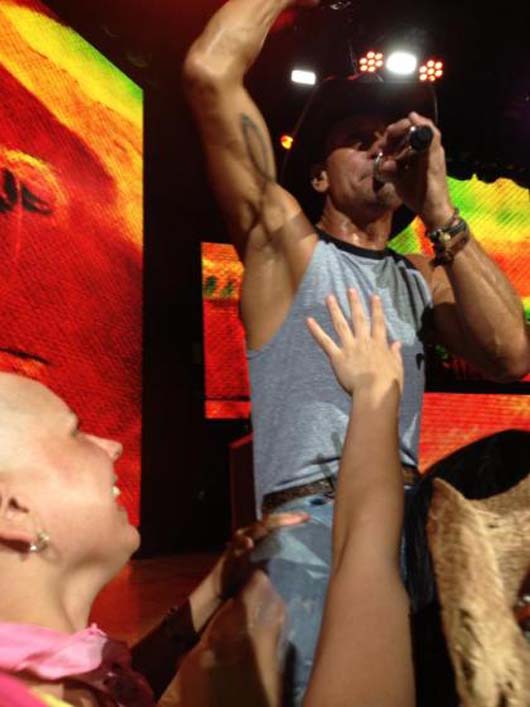 During the concert, Amanda's friend was doubtful that they would be able to get close to the stage. But, Amanda knew what she had to do. She took off her cowboy hat to reveal her bald head from chemotherapy; with tears in their eyes, the two crept up to the stage.
The other concert goers moved aside for Amanda, knowing this moment was important. A girl in the crowd pointed to the stage and said, "This is where you're at for the concert!"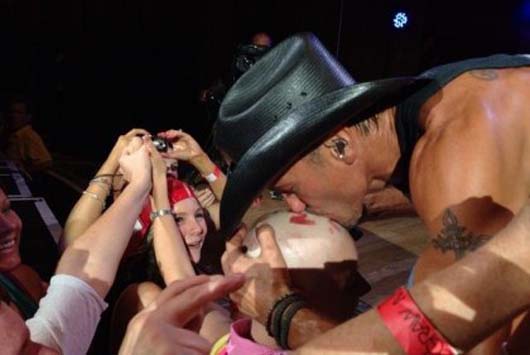 When she got to the stage, everyone nearby cheered and chanted for Amanda! Someone wrote with lipstick "Kiss me!" on Amanda's head and Tim knew what to do! He swept over to her during a song, winked and planted a kiss on the top of her head, giving her the hope to fight on!
What an amazing moment; people are truly good!
(via q104.com)