Losing a pet is like losing a member of your family. It is hearbreaking and you do as much as you can to prevent it. That's why when it happens, you do absolutely ANYTHING to get the pet back! When Zion the Ragdoll cat went missing from James Woodley's life, he was on a mission to bring his friend home.
However, flyers didn't help, Zion didn't turn up at the humane society and his owner was getting desperate. He even went door to door looking for Zion, but to no avail. James was losing hope and he wasn't sure what to do...
And then he turned to Facebook.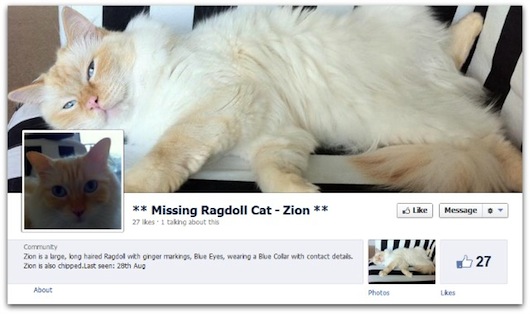 Before social media existed, James would have been out of options. But as a last ditch effort, James Woodley created a page dedicated to finding Zion. He shared it with his family and friends, hoping the status updates would urge them to look for the cat as well.
Zion the Ragdoll cat was missing for two days. For a mission animal, that is almost a lifetime. Because he was in such a rush to find any leads, James purchased Facebook ads that pointed towards the page he had created. The ads were targeted to people in his town, a suburb of London.
30 minutes after the ad went live, a woman from James's hometown saw the ad, recognized Zion and sent him a tip.
"The girl told me that she thought Zion had been run over, because she saw him, on the day he went missing, in the middle of the road, and she tried to coach him to the side," Woodley said. "Apparently he got scared and ran into the woods."
James and his girlfriend rushed to the woods the woman described and began searching for the scared cat. After two days of posting flyers, going door to door and checking shelters, it took only thirty minutes to find the cat using social ads.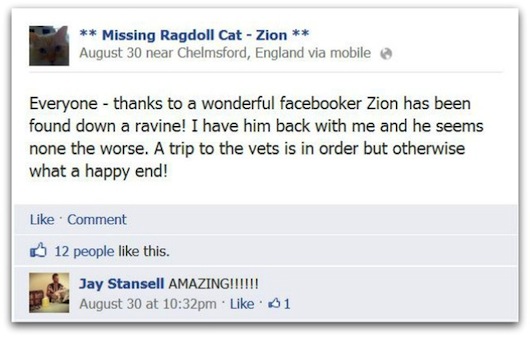 "I would say the money was well worth it," Woodley told Buddy Media. "I'm so lucky, and Zion was so lucky."
This entire family was lucky that social media existed. This is such an unusual and unbelievable rescue... but we're happy it happened!