Mr. and Mrs. Neufeld both know how to take life in stride. While Mrs. Neufeld an 85-year-old grandma was maneuvering her car, it tipped on the high curb close to home and flipped on its side. She was still in it. What she and her husband did while she was trapped in the car was definitely a sight to see.
Mrs. Neufeld's husband, Ben Neufeld, was minding matters in their home when he heard a loud noise. He peeked out the window he saw his neighbors gathered around. When he went to see what was causing the ruckus for himself, he found his lovely wife trapped in their little blue car.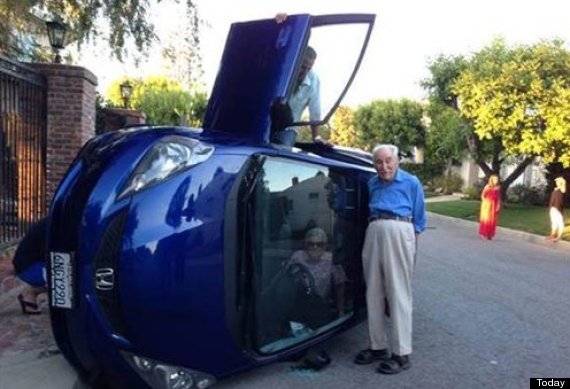 "I was concerned of course, but everyone was just standing around and she was chatting with them, so I just joined the conversation," Mr. Neufeld said. "I didn't do very much. There wasn't much to do."
Mr. Neufeld said that his wife was "calm as a cucumber."
Mrs. Neufeld was so cool about the situation that she asked someone to dig her camera phone out of her purse because she just couldn't pass up this photo opp.
Her husband stood outside of the car as an onlooker and snapped the photo. Mrs. Neufield posed from inside of the windshield.
Firefighters worked hard and eventually freed the positive thinker. After that, the couple went about their day as normal and grabbed themselves some grub.
Credit: Huffington Post