Two disabled dogs have a story so inspirational, we know it'll make your day MUCH better.
The two dogs, Eve and Dillon, are very special. One is deaf while the other is blind. Eve is a deaf Catahoula Leopard Dog mix; she was found by a postman nearly frozen in a snowdrift on Christmas Eve. Dillon, a blind Border Collie mix, was dropped off at the kennel and was never adopted.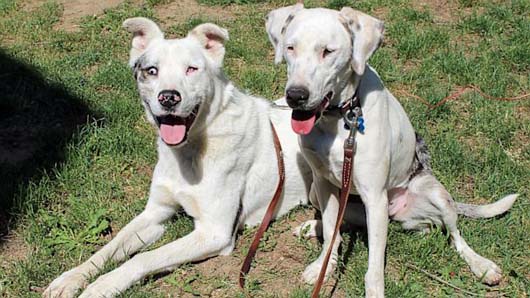 On their own, life would have been lonely. Thankfully, they found each other at the shelter and became each other's family.
"I thought their disabilities would have pushed them farther apart," Zach Skow, executive director of Marley's Mutts shelter, told ABC affiliate KERO. "But for some reason, right off the bat they just clicked."
As best friends, they help each other find their way through life. Marley's Mutts knew it might be difficult to find a home for one disabled dog, let alone two. But, Zach knew that he should try his best. That's why he went to Facebook.
"Let's face it, disabilities in the canine world are very misunderstood," said Skow.
A local mother by the name of Shelley Scudder saw the post and couldn't resist adopting the two dogs. They have been through so much in their lives before finding each other and then a forever home, but they never gave up.
We hope that this story gives you the strength to rise up and face challenges in life. All of us have burdens to bear, but with the help of God and loved ones, we are able to survive our struggles! God bless.
(via abc.com)