This world can be full of so many dark things - world hunger, war, strife. That's why it's easy to lose sight of how good humans are, naturally. But you won't feel that way for long!
These are the 25 most heartwarming images on the internet, ones that show you that mankind is truly good. From feeding the hungry to rescuing helpless animals, this images will restore your faith in humanity.
1.) A kind child helps a homeless man by giving him something to eat on a cold winter's day.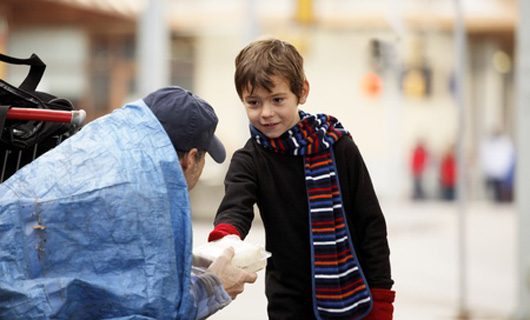 2.) When a motorcyclist violently wrecked into a car, onlookers braved the flames to pull out the unconcious man from the wreckage. They risked their lives for someone they didn't know by lifting a car that was on fire - simply amazing.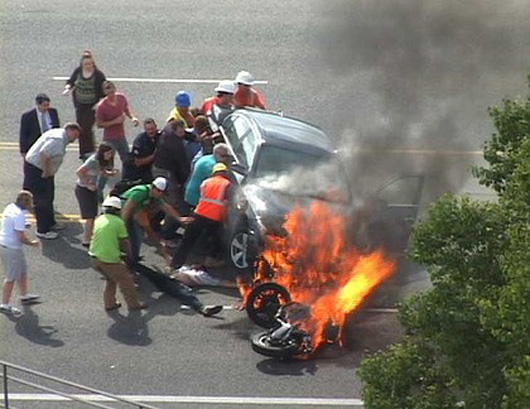 3.) During one man's dying moments, all he wanted to do was be next to his lifelong best friend - his dog.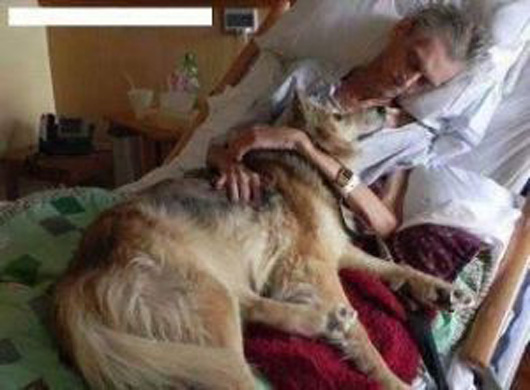 4.) While forest fires were raging in Australia, a kind firefighter saw a koala that was extremely dehydrated. Instead of passing on to continue with his tasks, he stopped and made sure the poor creature had something to drink.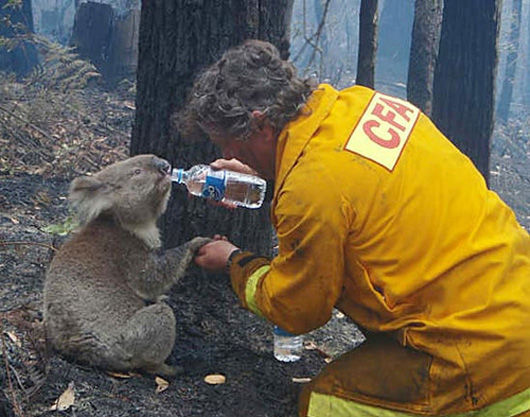 5.) A caring man washes the feet of complete strangers, playing out a Biblical act and showing so many people kindness and respect they didn't usually get.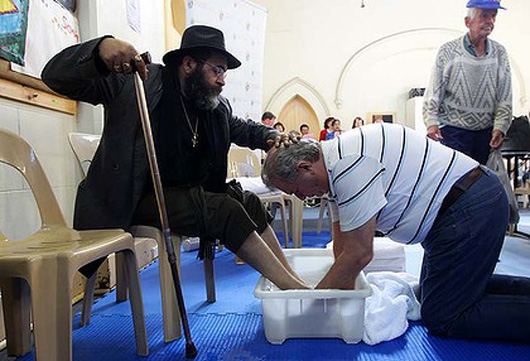 6.) During a high school softball game, a girl injured herself while at bat. Instead of letting her struggle, the opposing team carried her around the bases so that she could score.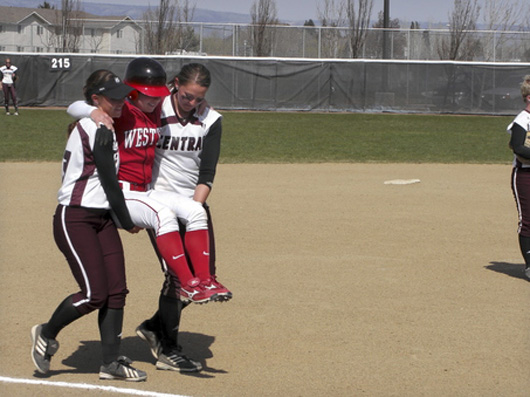 7.) This firefighter rescued a housecat from a house that was fully engulfed in flames. To show its appreciation, the burnt little cat started snuggling with his hero.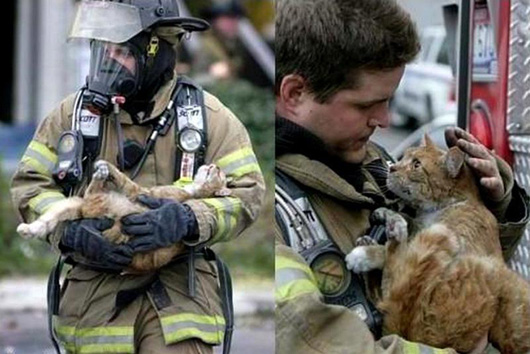 8.) To help people during a terrible economy, a drycleaner in the city offered to clean the outfit of any unemployed person. That way, anyone looking to get a job could be presentable and clean during their interview.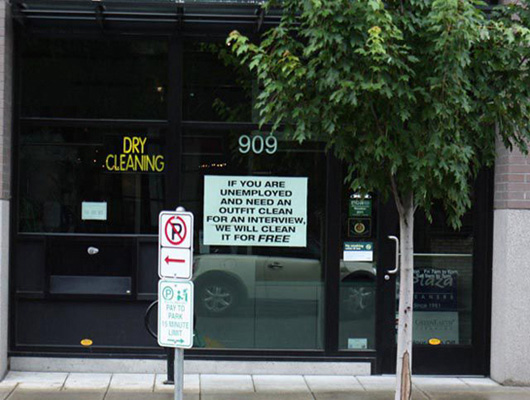 ---
9.) A tourist gives his sandals to a local in a third world country. He noticed that she didn't have any shoes of her own, so he gladly gave his up.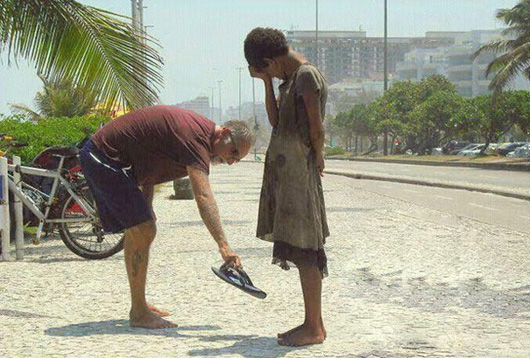 10.) Young couple gets their meal paid for by an older couple trying to pass on kindness and good parenting skills - a touching display of kindness.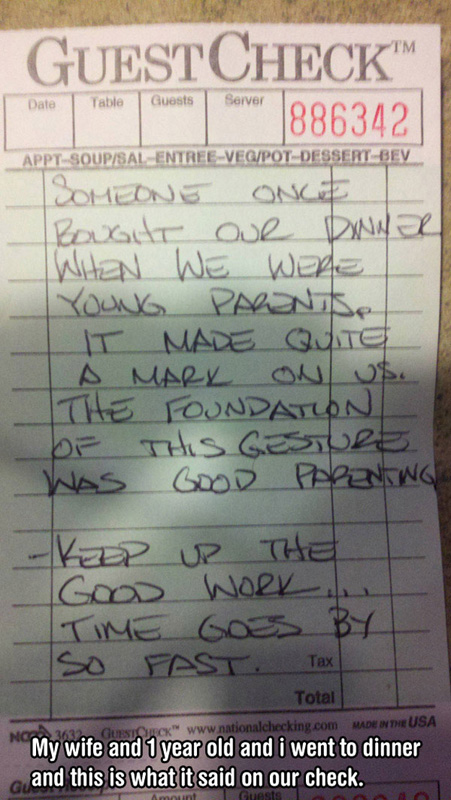 11.) This small kitten was saved by a firefighter from a house fire. The firefighter didn't leave the kitten's side after rescuing it, though. He knew that she might need some extra love and attention, so he monitored her and gave her oxygen in case she was suffering from smoke inhalation.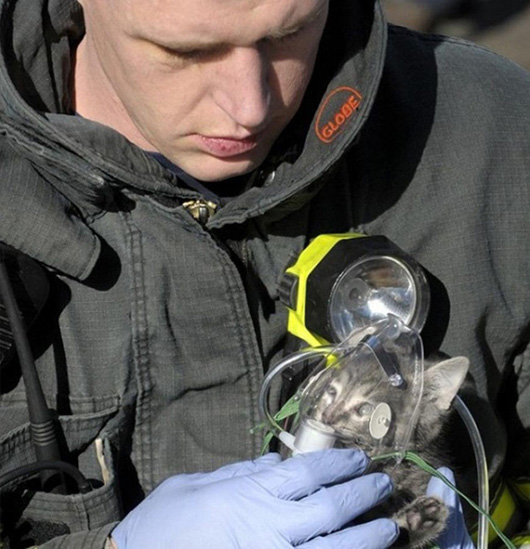 12.) During a raging flood, a man risks life and limb to transport a basket of newborn kittens across a flooded river and out of the danger zone. Most people wouldn't do this for someone they knew, let alone little kitties!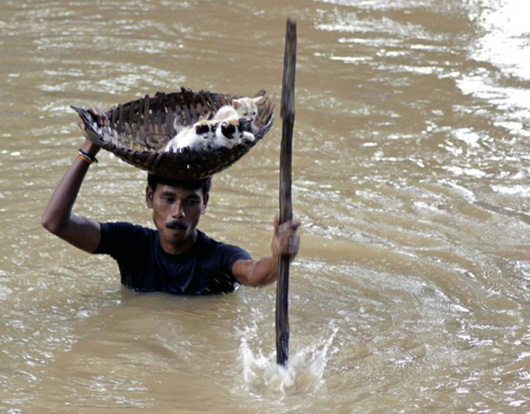 13.) Kind tourist makes the day of a little girl when he gives her a flower - just look at the smile on her face, you know she will remember this for a lifetime.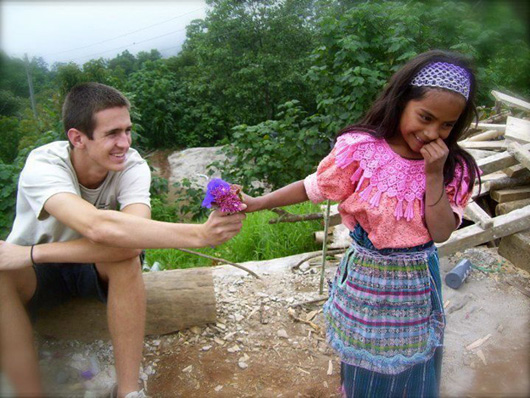 14.) Two small boys saw an abandoned puppy struggling to get out of a drainage ditch. Together, they made sure the little guy was out of harm's way, even if that meant spending a lot of time risking their own safety to get him out.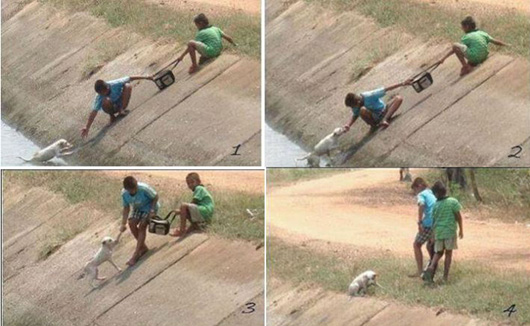 15.) It's not just soup kitchens that feed the homeless! Subway, a well known chain restaurant, was offering free meals to the homeless in a certain city. The owner of this particular franchise knew that it was better to take care of others than to pad his profit margin.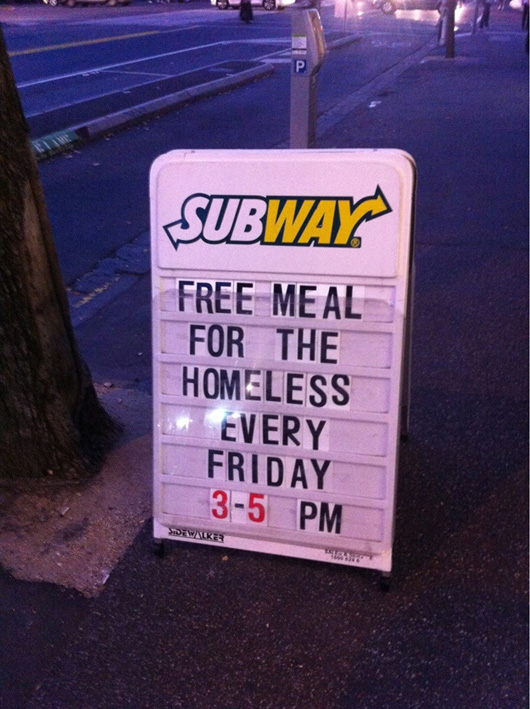 16.) During protests in Brazil, a general pleaded with the protestors, saying it was his birthday and he didn't want any violence. What those protestors did to celebrate a stranger's birthday was absolutely heartwarming.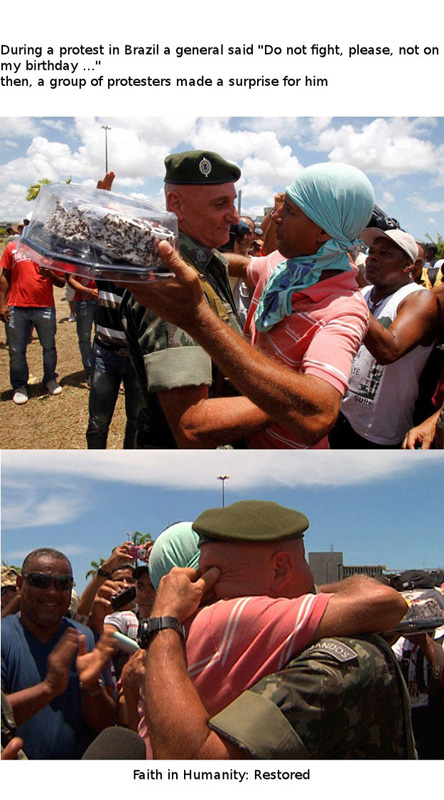 ---
17.) Best friends don't have to be of the same species! This cat and little boy share a close bond, even if they have trouble communicating with each other. Swing buddies for life!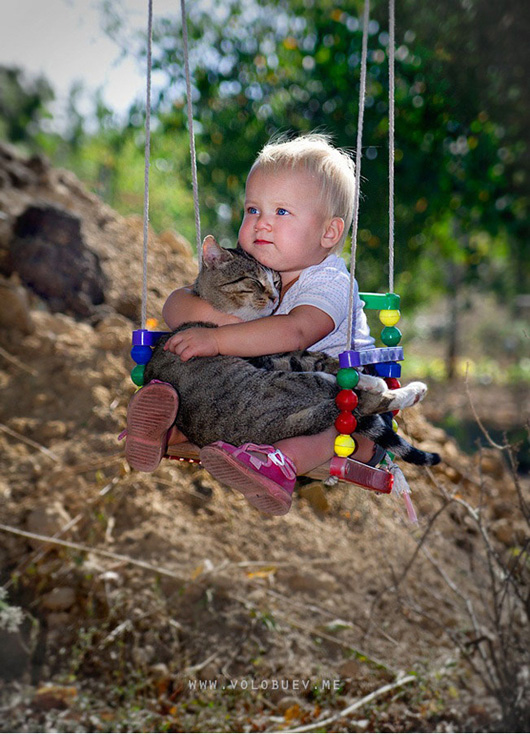 18.) During a track meet, one competitor collapsed while running. Instead of passing her by and beating her, an opposing runner helped the injured athlete cross the finish line.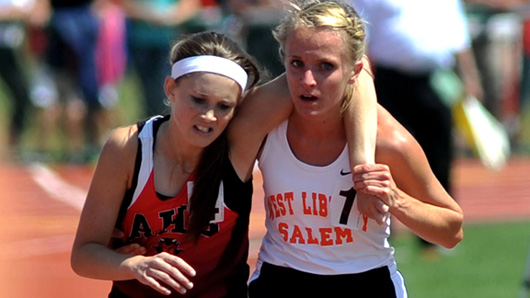 19.) During flash floods, a man in Australia saw a kangaroo nearly drowning. Although the kangaroo is a wild animal, he braved the waters and saved the little guy.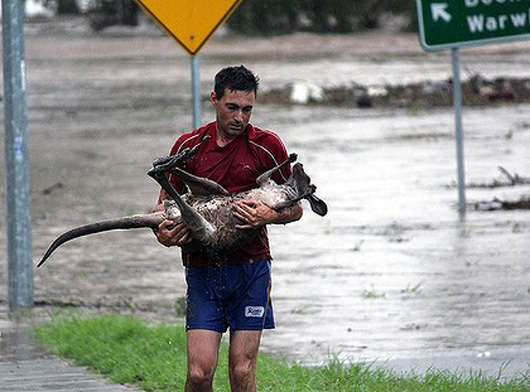 20.) In the UK, two friends noticed that a lost sheep was stuck in the waters near a violent and rocky shore. They couldn't just let the little guy drown, so into the icy waters they went! In the end, both the sheep and the boys were okay.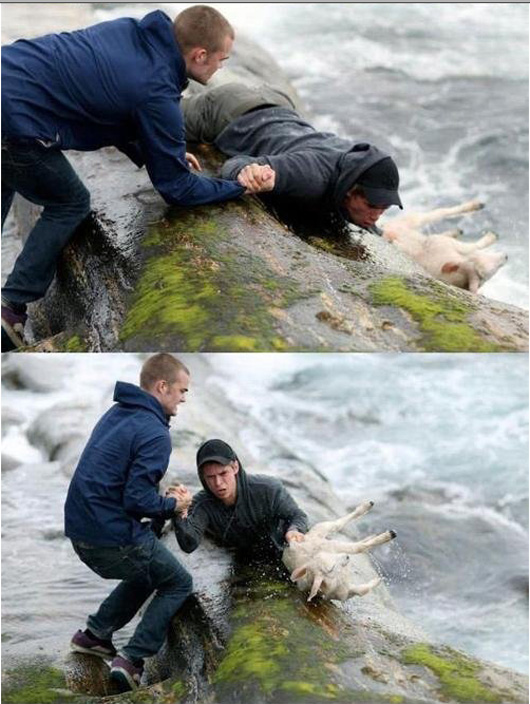 21.) Christians apologize to the gay community for all of the hurt and suffering they caused them...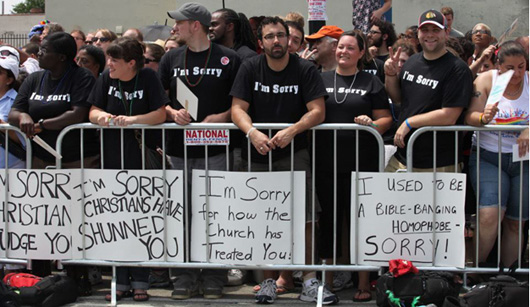 22.) And the people who were there were crying with joy, happy to be accepted back into the fold by their Christian brothers and sisters. Truly touching!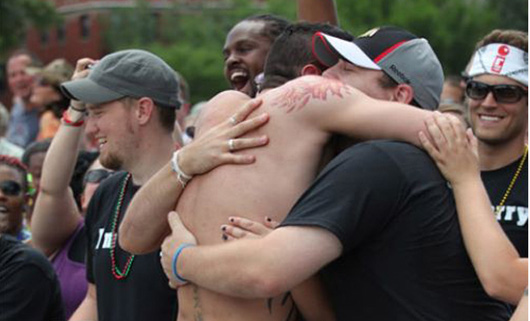 23.) Just because we are individuals, it doesn't mean we have to go through our trials alone in this world. :)



24.) Soldiers may be fighting wars, but that doesn't mean they aren't human. This soldier cradles a child in enemy territory, caring for her and trying to protect her from the violence that was going on around them.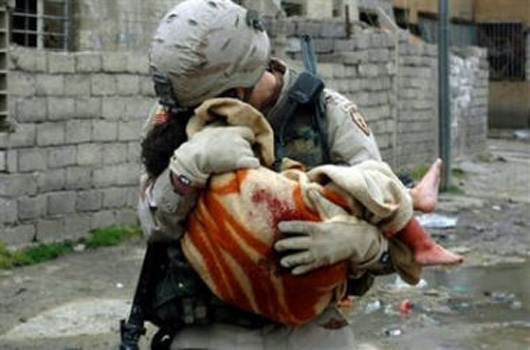 25.) Finally, this image of soldiers praying will truly restore your faith in humanity. Just because they are fighting for our country, doesn't mean they are violent or ugly people. These soldiers are protecting us and our freedom, all the while thanking God for their blessings. Truly an amazing sight to be seen.