Lucille Miller has faced seemingly countless health issues in the past 17 years, but none like her recent diagnosis, Scleroderma. It's a non-curable disease and she is becoming more and more ill by the day. Although she has a loving husband by her side, her friends knew that she needed a little extra support.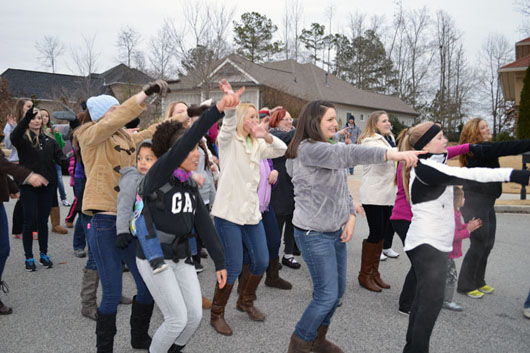 "I seem to be getting a lot sicker very, very quickly," Lucille said. "We've all been just very taken back by it all. It's all happening so quickly."
Lucille is receiving chemo and other treatments to help the side effects of the disease, but they won't cure her.
After hearing of Lucille's diagnosis, her friend Lauren Cantos wanted to do something to encourage her. Lauren and her friend Tiffany Anderson came up with the idea of putting together a flash mob.
"We just want to do something that brightens her spirit," said Lauren. "She always has a positive outlook. We just want to give her something happy."
So, together they found a choreographer to help organize the mob's dance to seven different songs, each with a different dance number.
Lauren planned an evening with her family and the Millers. Once they arrived, they gave the Millers a gift: two blindfolds. Then, once they were on, the two were led to their seats and the show started.
"I have never been more honored or blown away or shocked by anything," Lucille said. "I thought we were celebrating Christmas. We both needed a pick-me-up so bad."
Over 100 people practiced for weeks and showed up to put a smile on Lucille's face. Even though she has rough days ahead, she will always remember that her community and friends wanted to do for her, just to make her happy.
Every day, people can surprise you with their love and kindness. Just give them a chance to do so!
(via times-herald.com)