When a newborn baby girl was abandoned, she got a rescue from a furry guardian angel that shocked authorities. She was stuffed into a bag and dropped off in a park. Luckily, a heroic dog sniffed her out and led a 68 year-old retired engineer to her.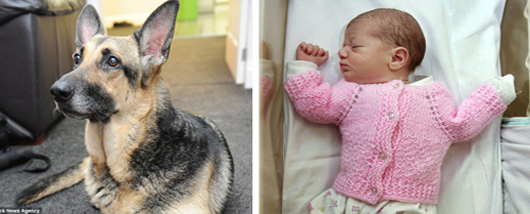 Jade the dog and her owner were astounded by the discovery. The baby was only a few hours old and still had her umbilical cord attached. Roger Wilday called authorities and within minutes police and an ambulance arrived at the park.
The infant, now known as "Baby Jade," was named after her four-legged hero rescuer.
"She is a hero dog," said Wilday. "There was no one else in the park at the time and it was very cold. If it wasn't for Jade that baby could have been dead."
The baby will make a full recovery thanks to her guardian angel.
(via)