The test that saved my life!
Bryan Geldard of Cambridgeshire, England is just an 18 year-old boy with an incredible story about cancer and what test helped him determine the type of cancer he had in order to receive the proper treatment. Of all tests, a birth control test gave the doctors the information they needed. WOW - a must read. Who knew?! Praise God for his remission status and for the work this young man is doing today!
Bryan Geldard, a high school student, was complaining of pains in his side around the time of his exams. But his doctor assured him he was just sore from working out.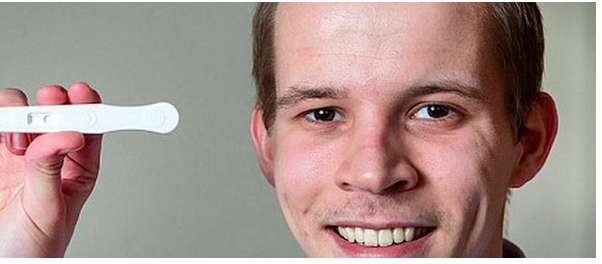 However, Geldard made a return visit to the doctor in August and a lump was discovered. After performing an ultrasound, Geldard's doctors were able to determine that the lump was malignant and that his cancer had already spread to his lungs.
The next challenge was to determine what kind of cancer did he have. This was critical in treating him properly.
"There are 4 or 5 different types of cancer this could be," his doctor said. Geldard left the room and fainted – "I think it was the fear of the unknown."
He was transferred to the Teenage Cancer Trust unit at a hospital in Cambridge, which requested that he provide a urine sample for a pregnancy test. In a bizarre twist, the test came back positive.
Praise God for the wisdom at the Teenage Cancer Trust that knew what could be determined from such a test!
A spokeswoman for the Trust said that a pregnancy test can be used to diagnose, or rule out, testicular cancer, because the disease produces the same hCG hormone that is produced by a developing placenta:
"It is relatively unknown (to use a birth control test on men) as patients don't really talk about it, she said. If the test results in a cancer diagnosis, then we have what we need. And if it is negative, it just means that further tests are needed."
Geldard was ultimately diagnosed with stage four testicular cancer, which had spread to his abdomen and lungs. He went through several rounds of chemo, as well as surgery, to remove the growth in his abdomen, the lymphatic system behind his stomach and a testicle.
In January, tests revealed that he was officially in remission:
"It was a really strange feeling to be told I was ok again – you're just sort of expected to go back to the normal, but my mindset has completely changed, he said. Before all this happened you think your life is pretty much guaranteed until you're about 85 but it gave me the realization of my own mortality – I sort of had an early midlife crisis."
He has since decided to focus his efforts to raising awareness about testicular cancer. "Cancer is no longer a death sentence and I would like to spread that message," Geldard says.
Geldard is an ambassador for the Trust, and is also in the process of writing a stand up comedy routine which he plans to perform at local schools to help educate students about the disease.
Thank you for sharing your story and for the work you are doing to help raise awareness. May God bless you and your health as you are in remission and my He bless your work - giving God the glory - for the doctors and your outcome!
This little girl was doomed to die until she was healed through a miracle!

HT: GodUpdates
This baby's life was miraculously saved by 'Divine Intervention'!