Horace Thomas, a member of the night cleaning crew at a Georgia Family Medical Clinic was just going about his business. But a strange sound interrupted his cleaning routine. Listening closely, Horace soon realized it was the sound of a baby crying. And it led him to an abandoned baby in a gym bag!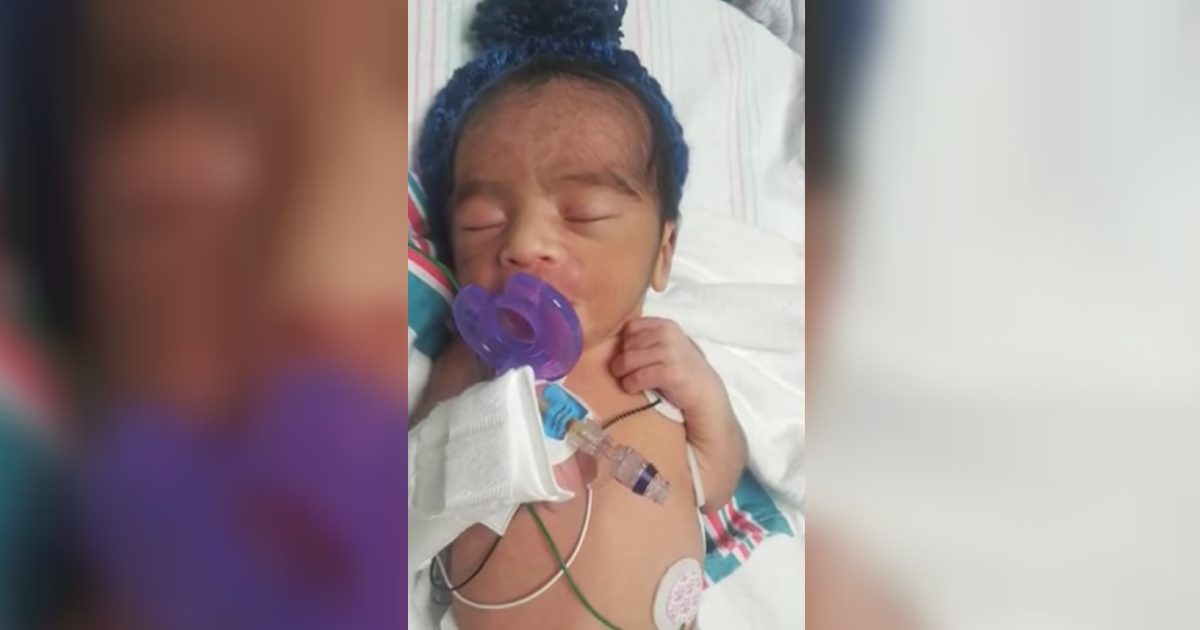 It's hard to imagine a mother putting their newborn baby boy into a gym bag and then leaving him outside of a medical center. But that's exactly what happened in Chamblee, Georgia.
Baby Abandoned In A Gym Bag

When the family medical clinic opened, a staff member noticed the gym bag sitting on top of a lab collection box in the entryway of the building. They brought the bag inside, assuming a patient or staff member had accidentally left it behind.
The bag sat inside the medical center all day. During that time, the baby boy never made a peep.
It wasn't until sometime after midnight that 64-year-old Horace Thomas discovered the true contents of the bag.
RELATED: Abandoned Baby Found In A Box On College Campus
Horace was cleaning the front windows in the darkened office when he heard a noise that sounded like crying. It was coming from a zipped blue bag on the floor. And when Horace opened the zipper to find an abandoned baby in a gym bag, he couldn't believe his eyes!
"It's a baby in that bag!" he shouted.

Horace immediately called 911 and waited for help to arrive. And God sent the perfect officer for the situation!
Officer Beth Frye showed up before the ambulance. She's delivered babies in the field before, and even saved the life of a baby who was born not breathing in 2013. She was just the woman for the job!
Officer Frye took the baby boy out of the bag, finding him wrapped in a sweatshirt with the baby's umbilical cord still attached. She brought him into the bathroom, taking care of him until the ambulance arrived. They rushed the infant to the hospital, where medical staff called his survival a true miracle!
Surveillance footages shows the newborn boy, weighing only 4.86 pounds, sat in the gym bag for approximately 18 hours. He was not full-term, and after so much time without care or nourishment, it truly is amazing he's alive.
A Happy Ending

Thankfully, though, the doctors and nurses took good care of this little angel, and he's doing just fine! Child services has taken over, and offers to foster and adopt the sweet boy are rolling in.
Meanwhile, police are still looking for the birth mom. Georgia offers a safe haven law, where mothers have up to 7 days to drop off any unwanted babies at a medical facility without repercussions. However, this law requires moms to leave the baby with a staff member, as well as give their names and some other information. So, the baby's mother, likely faces charges of child cruelty by neglect for leaving him behind in a gym bag.
RELATED: 'Burger King Baby' Reunites With The Mom Who Abandoned Her
It's terrifying to think what could have happened if the abandoned baby in a gym bag had been found later. Thankfully, God placed Horace in the right place at the right time. And the sweet man says he's never experience anything like this in his entire life. And while he certain feels he "did a good thing," he certainly hopes this is the last time he finds an abandoned baby!
WATCH: Cleaning Staff Finds Abandoned Baby In A Gym Bag
h/t: GodUpdates
YOU MAY ALSO LIKE: 'Ugly' Baby Left In Hospital Honors The Mom Who Didn't Want Him