They say a picture is worth a thousand words. But Joyce Rhinehart had no idea just how much the picture she snapped of a family eating ice cream together would mean. And her incredible story just goes to show how often God puts us in the right place at the right time!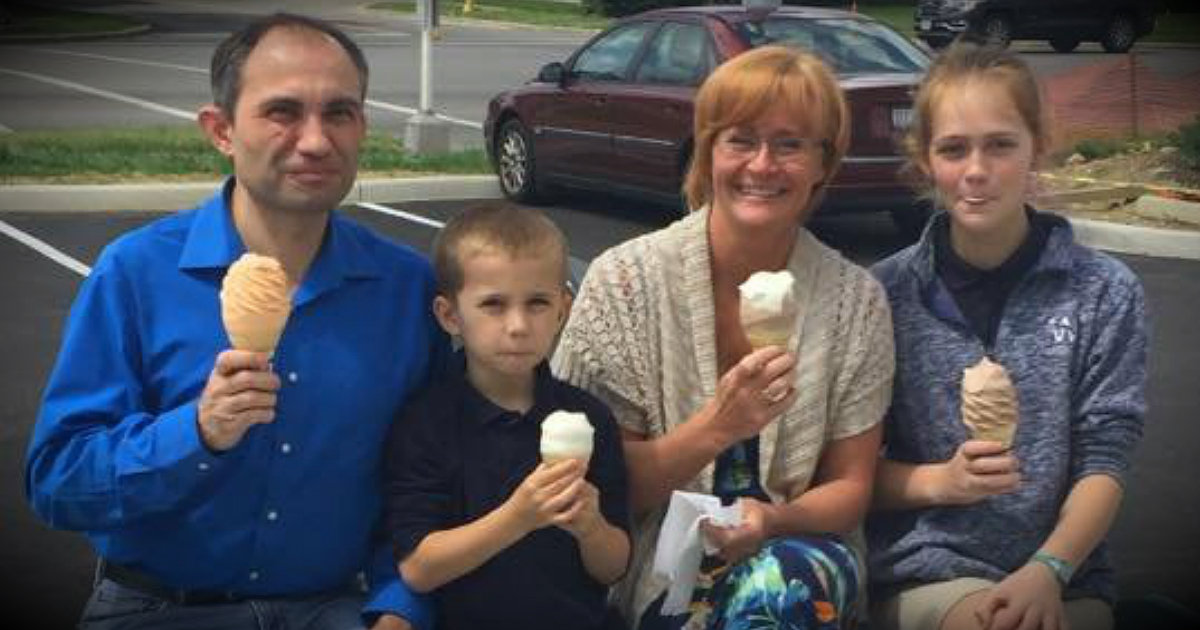 Joyce decided to take her grandson out for ice cream after his tennis lesson. While there, a family of four captured her attention. Joyce was a stranger to these people. Yet, she couldn't shake the desire to take a picture of the precious family eating ice cream together.
As it turns out, this prompting came directly from the Holy Spirit!
Say Cheese

Though it seemed odd at the time, Joyce decided to give in. She walked up to the crew and asked for permission to snap their photo. They didn't hesitate to agree, and happily smiled as this complete stranger took their picture.
RELATED: God Had A Very Special Purpose For Prompting Stranger To Give Away His Sunflower
Afterwards, Joyce handed over her phone, instructing the youngest daughter to go ahead and text the picture to her folks. She left to take her grandson home, pleased she could help document this family's special moment.
But there was way more significance to this photo than Joyce could have ever realized on her own!
God's Special Purpose

When Joyce stepped up and took that photo, she was fulfilling God's special purpose. This became clear when Joyce received a bittersweet text from the father from the photo.
The text read:
"Dear madam, you took our picture in front of Rita's on June 8th. My wife has passed away yesterday and this is the last picture we have together as a family. Please accept my deepest gratitude for your kindness, it means the world to me. Thank you from the bottom of my heart."
Joyce couldn't believe it. After a few more correspondences with the man, she learned his wife had been sick for the past year. The family eating ice cream was out enjoying one of their last good days together. Neither they nor Joyce had any idea the heartache that lay around the corner.
But God did.
"My [heart] is heavy for this sweet family I don't even know and the tremendous gift that was left to them cause I listened to my gut that day," Joyce wrote when sharing the story on Facebook. "I'm in awe!! This has the hand of God all over it!"

It's easy to ignore those little nudgings we sometimes get. Especially when they don't seem to make any sense. But so often, that's the Holy Spirit providing us an opportunity to help Him with a greater purpose.
h/t: GodUpdates
YOU MAY ALSO LIKE: Photographer Winds Up Capturing Dad's Final Moments Just Before He Dies Saving His Son