When Hillary Sadlon turned 22, she decided that she didn't want to focus on herself. Instead, this kind-hearted young girl wanted to perform 22 random acts of kindness for others. Her goal was to spread kindness and love in the world... and we think she succeeded! Prepared to be amazed. :)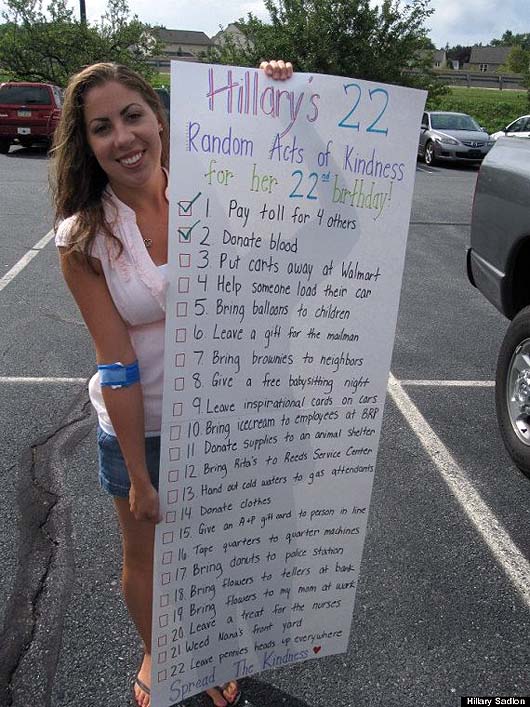 Her list was both adorable and heartwarming:
1. Pay toll for 4 others
2. Donate blood
3. Put carts away at Walmart
4. Help someone load their car
5. Bring balloons to children
6. Leave a gift for the mailman
7. Bring brownies to neighbors
8. Give a free babysitting night
9. Leave inspirational cards on cars
10. Bring ice cream to employees at BRP
11. Donate supplies to an animal shelter
12. Bring Rita's to Reed's Service Center
13. Hand out cold water to gas attendants
14. Donate clothes
15. Give an A&P gift card to person in line
16. Tape quarters to quarter machines
17. Bring donuts to police station
18. Bring flowers to tellers at the bank
19. Bring flowers to my mom at work
20. Leave a treat for the nurses
21. Weed Nana's front yard
22. Leave pennies heads up everywhere
Spread the kindness. <3
Hillary spent six months preparing for her 22nd birthday, thinking of heartwarming acts of kindness and things to do for others.
"I wanted to do something big to show that helping others has a contagious rewarding feeling that comes with it," Sadlon told the Setonian. "I wanted to make a difference, even if for one day."
It took her 10 hours to complete the list, but it was worth it. Now, take a page out of Hillary's book and spread some kindness yourself today. :)
(via)