A woman by the name of Andi Davis came across a dying pit bull whiel she was hiking on a trail in Phoenix, Arizona. She found the 2 year-old dog half-standing, half-collapsed in the mountains. He was totally alone and appeared to be nearly dead.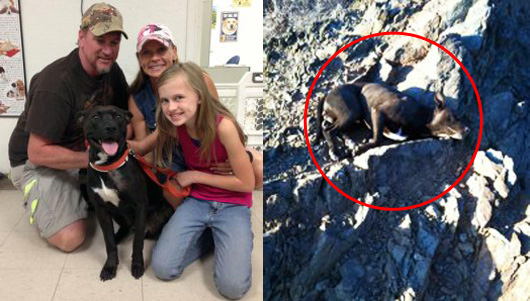 She hesitated before approaching the dog, worried he'd lash out. But when he lifted his head as she reached for her water bottle, she forgot her fears and gave him a drink. Then, she lifted he 47 pound dog into her arms and began to walk.
"It will be OK," Andi kept telling the dog as she made her way down from the mountains. Every so often she would stop, give him another drink, then stand up again and keep going.
"At first she was shaking because she was scared," Arizona Humane Society Bretta Nelson said. "Then she was shaking because of the weight of him." Then, the dog stopped moving.
After an hour of slow walking and carrying the heavy dog, Andi handed him off to her husband. They took him to an emergency vet. Doctors found an open abdominal wound, bullet fragments near his spinal cord and a bullet in the middle of his neck. The cruel person that attempted to kill this dog and abandoned him in the mountains didn't even care to make sure he was dead. Instead, the dog was suffering.
Luckily, vets got to him in time to save his life. Now, the dog is living with the Davis family, adjusting to a life full of love.
What happened to this dog enraged us, but we are so thankful for Andi that we are left filled with hope!
(via)