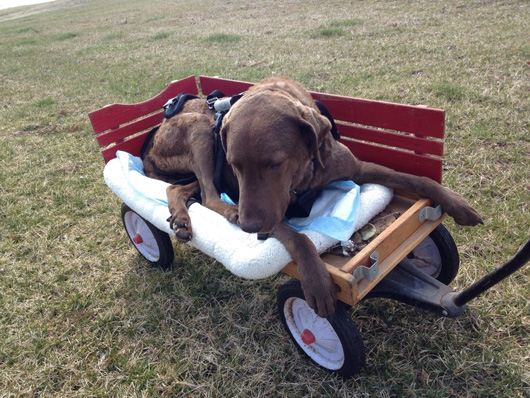 The picture above of a paralyzed dog has taken the internet by storm. The dog's owner posted the picture on Reddit.com along with the message: "You may never walk again but we'll never stop having adventures together."
The dog was newly paralyzed and hundreds of strangers online showed their support for the poor puppy. The 6 year-old Chesapeake Bay Retriever is named Bowie and was injured during a freak game of fetch. She was playing fetch with the her owner's parents and her own son, a 95-pound dog named Mac, when the two dogs collided in such a way that left Bowie with a broken back.
Bowie spent two weeks in the ICU but was finally able to come home. Unfortunately, she was left paralyzed from the waist-down. Before the accident, she was full of energy and curiosity, roaming over her owner's property.
"She lives on a farm and loves to run and swim," her owner commented in response to another user, "She still had another 5+ years of an amazingly active life to look forward to... But now she can't do anything on her own."
Bowie isn't alone in her struggles, though. Her owner is absolutely determined to give the dog a full and happy life. She undergoes physical therapy three times a day and her family is already exploring options to restore her mobility.
Currently she is using a children's wagon, harness and soft padding to get around, but Redditors have rallied, suggesting many different options to help Bowie get around.
But don't worry about this puppy! She is still happy and energetic, she just needs some help getting around. :)
"She's seen me through a lot the last 6 years," her owner wrote. "I'm happy to be here for her for the next ~6+ to come."
(via Reddit.com)