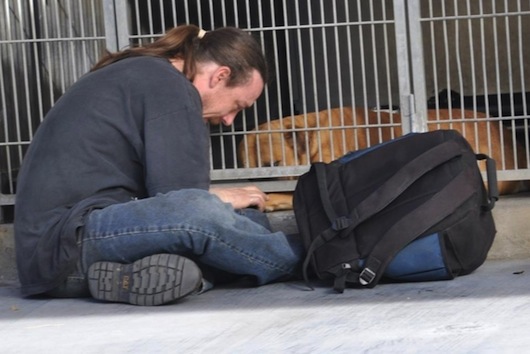 Photographer Maria Sanchez came across an incredibly touching scene at a dog pound. Dave, the dog's owner, was crouched outside of his cage. Dave was giving his dog Buzz water and all of the affection he could muster. Buzz was taken away from Dave, a man down on his luck. He was classified as a stray dog and put into the local pound. Dave didn't have the $400 to give the pound to release his pet, leaving him without any hope. He broke down into tears and Maria caught the emotional scene on her camera.
But she wasn't just doing it for attention. She, a caring and generous guardian angel, wanted to help Dave. So she used Facebook and other social media to seek out donations to help Dave. The problem was, she didn't know who he was. She just saw a grieving stranger and wanted to help him.



Thankfully, the local news was able to help Maria locate Dave. She informed him she received donations to help him get Buzz out of the dog pound; complete strangers were so full of compassion they gave Dave their money just so he could have his best friend back.
In the video below, you can see the joyous reunion between Dave and Buzz, best friends that were separated by hard times.


Maria is an angel for helping a mourning stranger the way she did! God Bless her and the total strangers that helped Dave reunite with his dog with their generous donations.
Now this is what a happy ending should look like!
(via ABCLocal.go.com and BuzzFeed.com)