Annabelle Earl, a sweet 4-year-old Brooklyn New Yorker heard about the excitement of being a flower girl from one of her friends. She imagined herself in a pretty long dress and a basket filled with bouquets of beautiful flowers. Annabelle just needed one thing to make her dream come true… a wedding.
In April, Annabelle's mom Kim Earl took her to Washington, D.C.; they visited the "Wishing Tree" in the Smithsonian sculpture garden. Annabelle went to the tree and whispered her wish.
"Then she said to me, 'Can I tell you what I wished for?' I said of course and she said, 'I wished for a rainbow unicorn for a pet, a real one,'" her mother remembers.
"I said, 'Sweetie, those aren't real. You can't have that.' And she was devastated."
Annabelle and her mom went to Plan B. And Annabelle decided that if having a rainbow unicorn wasn't possible, then she wanted to wish for that other thing that she was thinking about… being a flower girl.
But there was one minor setback.
"We don't have anyone in our circle close to being married," her mother said. But that didn't stop Kim from helping to make her daughter's dream come true.
Kim didn't want to see her daughters dream fall into pieces so she got creative.
Annabelle and her mom went to the one place where weddings happen every single day – the Clerk's office in Manhattan. Over 20,000 New Yorkers pay just $25 for modest nuptials at the Clerk's office every year. Surely one of them would want an adorable flower girl to make their day extra special.
Annabelle showed up at in a pretty flower-printed dress. With her white-laced gloves she held onto a dozen of pink and purple roses that she picked out herself.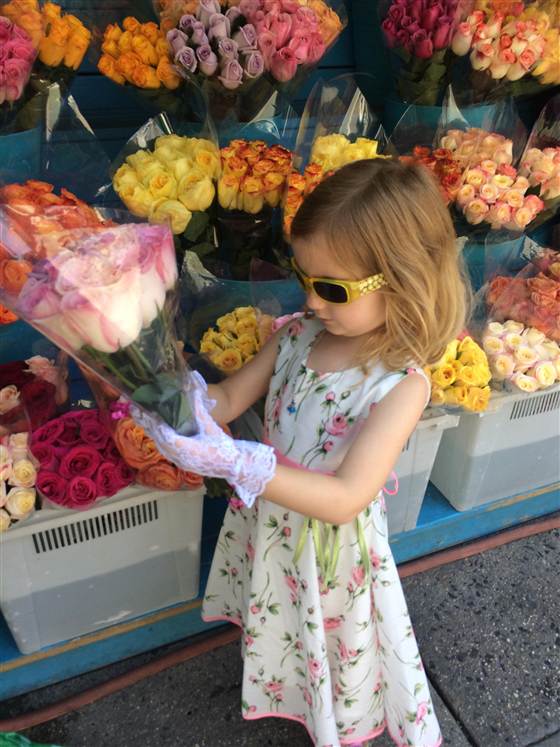 The eager flower girl stood in the City Clerk's office holding a poster with the offer of her own dreams. It said, "Can I be your flower girl?"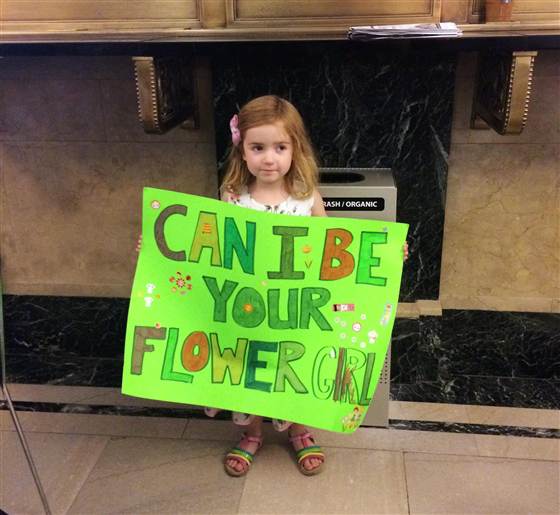 "We stood there and she held up her sign and people walked past and would smile but no one came up to her," Earl said. "I said, 'I think we're going to have to ask people.'"
Annabelle watched the couples and approached one with her proposal. "The woman said, 'No thank you,' and I thought, 'Goodness, this is going to be a long day,'" Kim said.
But that Annabelle wasn't even discouraged. She popped the question to another bride and groom and their answer was "Yes!"
"She was too adorable to say no to, and we thought it would be fun to make her day as well as ours," said the bride.
It was quickly their turn to exchange vows, and the wedding party went inside. Annabelle stood right behind the bride and groom and got cold feet just like any other flower girl.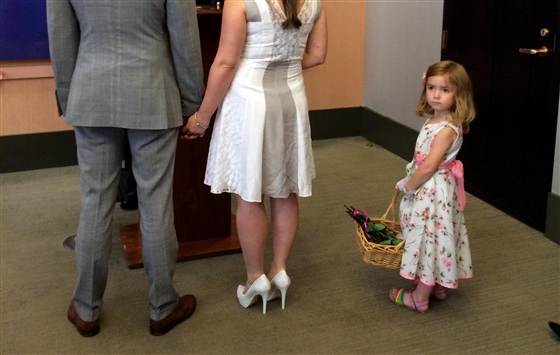 "It was just like a real wedding," she said her mom, who had to hold her.
The couple was pronounced man and wife and Annabelle handed the bride the bouquet, at that moment she was ready for the reception, so she asked, "Is there cake?"
Her mom took her to a local bakery for a sweet treat and sent the newlyweds a photo with this message, "Here's to a sweet future."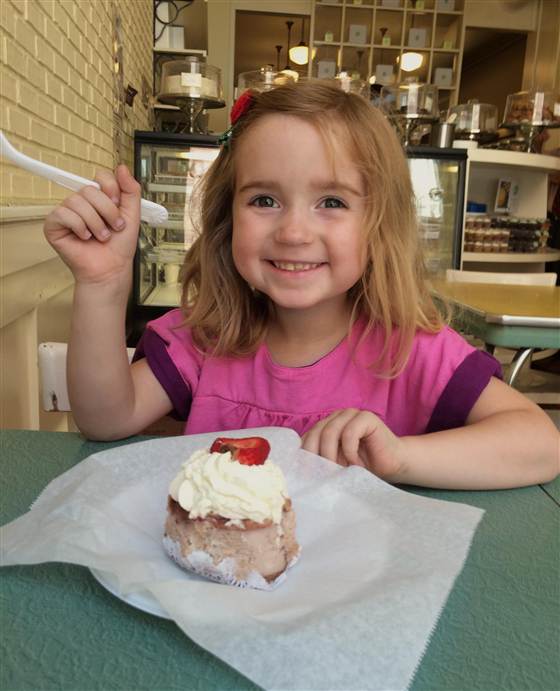 Annabelle's mom said that her daughter was so excited for her dream to come true, but the little flower girl said that one wedding in a day was enough. And we couldn't agree more. But that doesn't mean that Annabelle won't be at it again.
"I want to go back to City Hall," she said. "It made me happy."
Sweet Annabelle said that the best part was "Giving flowers to the bride."
Source: Today.com