Davion only is a 15 year-old orphan boy, desperate for home to call his own.
"My name is Davion and I've been in foster care since I was born ... I know God hasn't given up on me. So I'm not giving up either," said David at the St. Mark Missionary Baptist Church in St. Petersburg, Florida.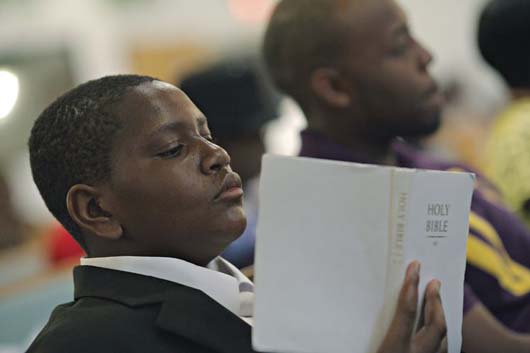 He was born while his mother was in jail. Just last year, she died there. He has been bouncing around the foster system his entire life, living without a family. He currently lives at the Eckerd's Carlton Manor residential group home with 12 teenage boys where there are rules for every activity and cameras recording everything.
Davion only wanted a family for companionship and a place to rest his head at night... without security cameras. So he approached a church in Florida, begging for a home. "I'll take anyone," Davion told the 300-strong gathering at the church. "Old or young, dad or mom, black, white, purple. I don't care. And I would be really appreciative. The best I could be," he added.
Donations and phone calls are pouring in for the poor boy, but he is still searching. We pray that a family welcomes this 15 year-old for the few short years he has before going out on his own.
His bravery and strength are inspirational. If you would like to adopt Davion call Eckerd at 866-233-0790. If you can't adopt but want to donate time or money, call Eckerd at 727-456-0600.
(via)