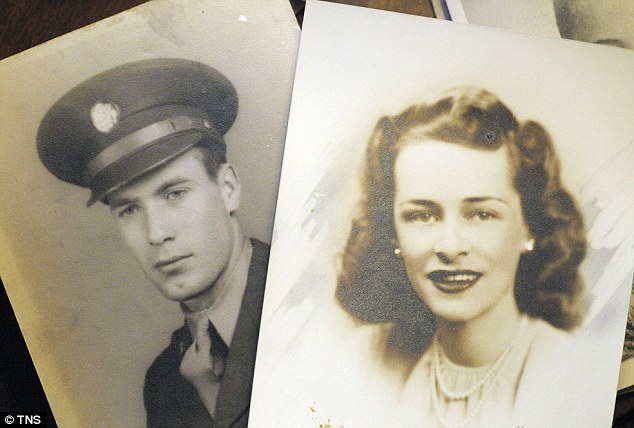 Evangeline Poteat was the dream girl of her day. She had captured the hearts of three World War II soldiers. These men chose to set aside the fact that they already were in battle to enlist in the fight for Evangeline's heart with pen and paper.
Evangeline who was 22-years-old at the time, and working at a factory when she was sent 18 love letters by three men who wanted to woo her. Two of the soldiers had dated Evangeline in their southern hometown in Bakersville, North Carolina before the war. One of the young men she had never even met before.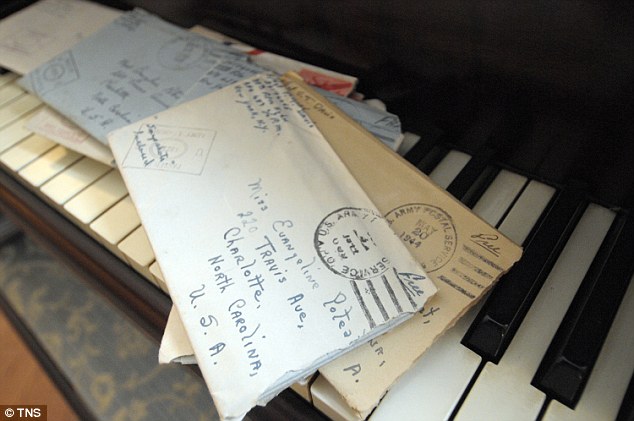 None of the gentlemen knew of each other's letters to Evangeline.
One young soldier wrote, "I know that you think that I am crazy for asking you so many times. Did you think the ring idea is OK with you, or is it? I love you."
Another gentleman wrote reminiscing about his high school days with Evangeline, "We used to really have a swell time until Uncle Sam nabbed me."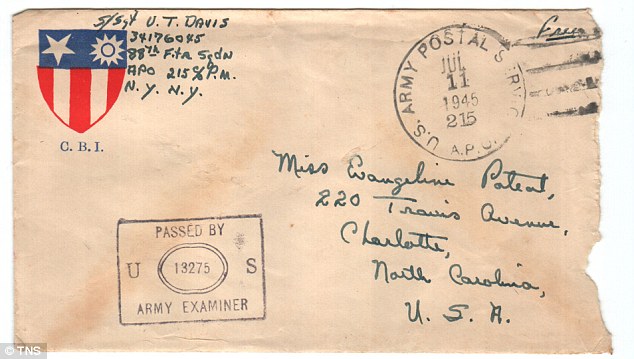 But Teal Davis, an aircrew chief, wrote 11 letters Evangeline proclaiming his love and affection for her, although he had never set his eyes on his heart's desire. This ultimately stole her heart away from others.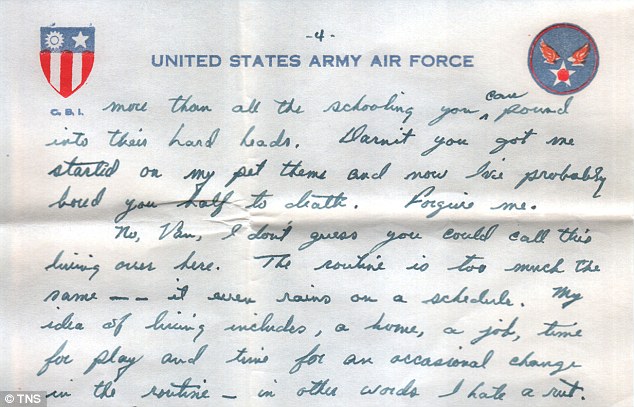 His first letter opens with 'Hello, Van.' And as they grew closer through their words, Teal begins to refer to his love as 'Dearest'.
Teal wrote to Evangeline just three weeks before the Allied troops would storm Normandy in the D-Day invasion. But he never focused on the dangers of war in his love letters; he only focused on his love for his darling and the beautiful North Carolina mountains.
A fellow never realizes how beautiful his own home country is until he gets halfway around the world from it. I was just thinking of the noises you can hear in those mountains early in the mornings and comparing them with here. Over here just walking to work (in knee-deep mud, of course) you hear wild chickens, parrots screeching, monkeys screaming and carrying on, and then comes the roar of airplane engines --- such a combination...I'll be looking forward to the day when I can meet you in person, but for now a letter will do. Be good, have fun this summer and write soon.
Sincerely,
Teal
Some of Teal's letters were seven pages long, he wrote about having the same thing for breakfast and how they always ate, "French toast, powdered eggs, french toast, powdered eggs." He also talked about watching movies like The Wizard of Oz. But Evangeline didn't actually write to Teal until a while later. She was a busy gal. She had put her college education on hold to join the war efforts. She worked in a factory making anti-aircraft shells for the Navy. But when she finally did write, Teal quoted song lyrics to tell describe his feelings when he got a letter from his sweetheart, "I feel like a feather in the breeze' and 'It rains pennies from heaven."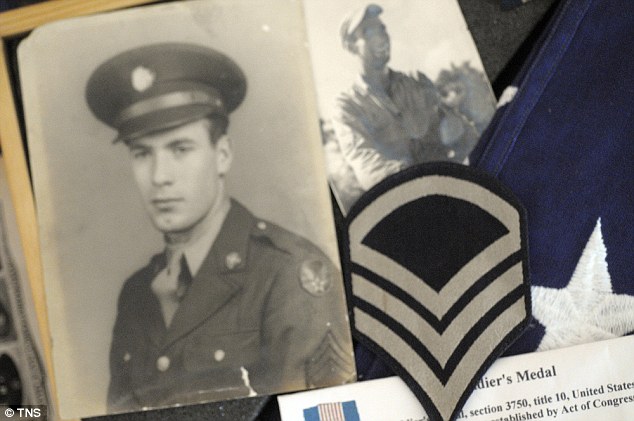 December 2, 1944 marked seven months since the couple sent their first letters. On that day Teal stuck two photos of himself and in an envelope and he asked Evangeline the question that he had been longing to ask:
Home or church wedding? Those big weddings are pretty and all, but a simple little home marriage seems more earnest and sincere...What I'm trying to say is that I only want to get married once and that's for keeps…I'll never be content until I've met you and tried to make some daydreams come true…You know, I've quit trying to reason out why I should fall for someone I've never met - it just happened.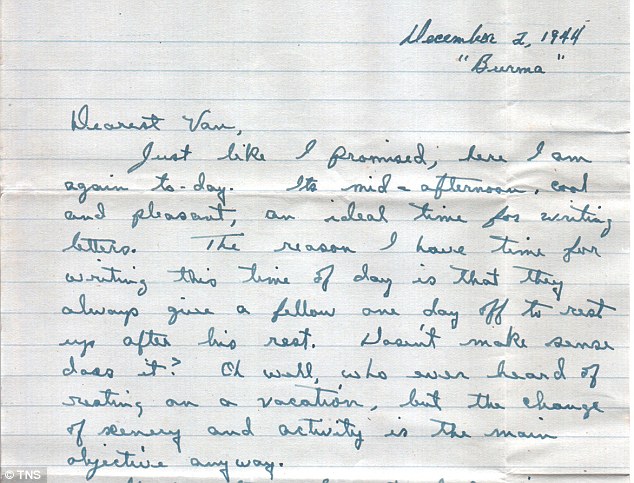 Teal wrote back to Evangeline and it appeared that he had gotten the answer that he wanted. "You asked if I minded you saying that you love me," he writes. "Hon, I'm just happy that you can say that."
Teal was an all around knight in shining armor. He was awarded the Soldier's Medal when he and three other soldiers saved a crewmember from a burning plane.
Teal was 25-years-old when he married 23-year-old Evangeline in a candle lit wedding. They chose to tie the knot at their hometown Baptist church on April 21, 1946. Evangeline was dressed in a white-lace gown and she wore her grandmother's necklace.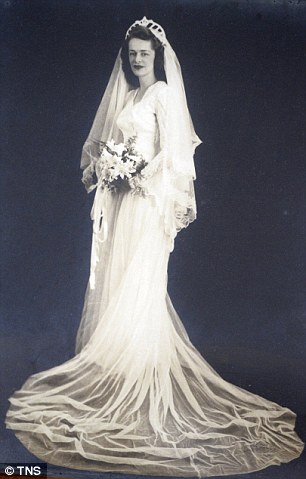 They two were happily married for 55 years. Teal worked in the post office before starting his own business and Evangeline became a teacher after raising their two children Larry and Jane.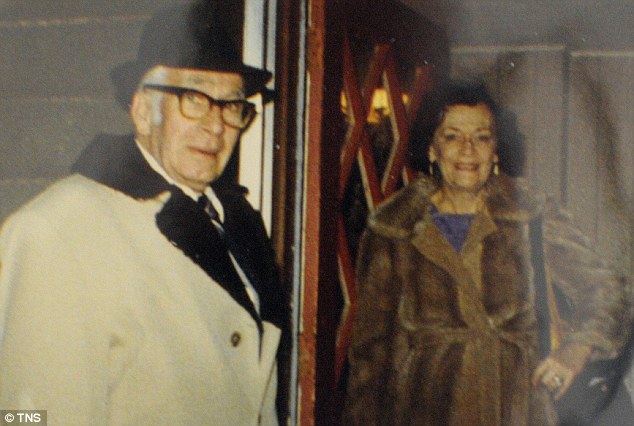 The couple lived out their vows of "Till death do us part". Teal passed away in 2001 of emphysema. A few years later Evangeline died in 2005 after suffering from a stroke.
Their children were surprised to learn that the letters that bounded their parent's love together still existed when they resurfaced on the Internet. For them, reading their father's loving words to their mother made it seems if he were alive yet again. "I can hear him," Larry said. "But a lot of it is the way I never heard him."
Credit: Daily Mail