Ara and Robert Hunt are doing something this Thanksgiving that will make a boy extremely thankful. Their house will be a little more crowded. The couple, who have four children from past relationships and three kids they adopted together. Now they are adding ANOTHER child to the dinner table, a 19 year-old named Seth Miller.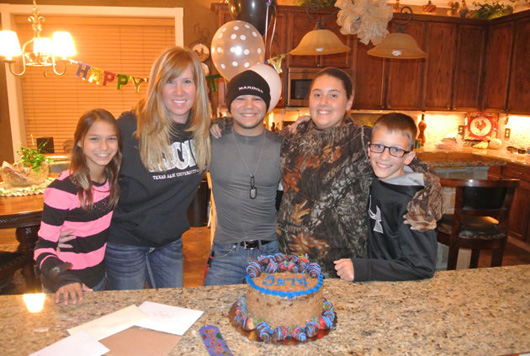 The high school senior had been in foster care since he was 7 and he had aged "out" of the foster system. Seth was living in his car when he received help from Virginia Barrett, a volunteer for Court Appointed Special Advocates for Children, who helped him move into his own apartment.
Even though he was happy to finally have an apartment, he still wanted one more thing… a family.
"One family," he told Dallas affiliate WFAA. "Even if I had to live in a box – family."
Miraculously, it turns out that Seth Miller was actually the biological sibling of one of the Hunt's adopted children. When Ara and Robert learned of the situation, they knew what they needed to do even if they were nervous.
"We were scared," Ara Hunt, a 42-year-old part-time Realtor who also owns a cleaning business, told Yahoo. "It took us about two to three weeks to text him."
Seth Miller was in a car accident in September and was in the hospital with minor injuries. That encouraged the family to reach out. "This is our sign," she said. When the teen got out of the hospital, she visited him. Once she got to know the young man, Ara's worries vanished. "He's the most loving, caring kid," she says.
At first they invited him into their house as a guest… then they asked him to stay. On October 25, the day after his 19th birthday, Seth got his wish: He moved in with the Hunt family.
"We've been having lots of family time, going to the movies, softball practice, four wheeling, just being a family," Seth, who has opted to legally change his name to Logan Robert Hunt, tells Yahoo Shine. "That's really all I've ever wanted." As for being reunited with his younger sister Shyann, he describes the experience as "beyond amazing."
Now, he will be able to celebrate his first Thanksgiving with a family.
"A lot of kids look forward to presents and things like that," Seth says of the holiday season. "Just having a family, that's the true gift."
His new mom agrees. "Seth was brought here to change our lives. I sincerely believe that," she shares. "It's taught us humility. It's taught us to be more thankful."
(via)