Meet Jamie-Lee Hall. She is a 24 year old mother of two lovely children and also a very brave woman who is battling a rare brain disorder. The rare neurological condition she has is called moyamoya disease, where arteries at the base of the brain are blocked. One of the biggest risks of her condition is that because of the blocked arteries, her brain could be damaged and lead to paralysis.
She is currently getting ready to go through a second round of treatment for her condition... but only because a guardian angel saved her in 2009. Before Christmas in '09, she received a donation of $7,000 from an anonymous terminally ill man and $2,500 from the Live Love Laugh Foundation. The nearly $10,000 helped pay for the life-saving surgery she wouldn't have been able to pay for otherwise.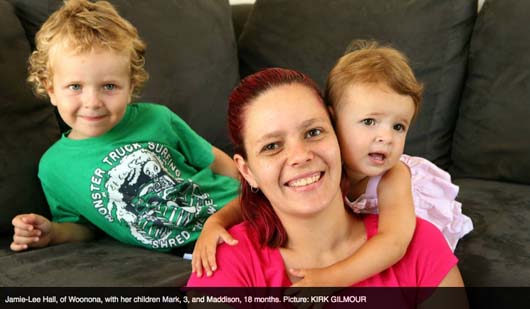 Last year, she was told she would need a second operation to prevent a massive stroke. The price of the operation would be well over $50,000, much more than she and her family could afford. She turned to her family and friends for help raising the money, but on Christmas Eve, she was surprised with one miraculous gift: a surgeon at the Prince of Wales Hospital would do the surgery for free.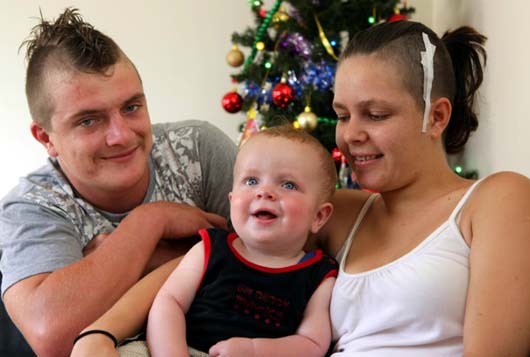 To pay the acts of kindness she received forward, Jamie has decided to give the money that has already been donated to her 11 year old neighbor, Connor, who need surgery to remove a brain tumor.
"Me and Connor have always got along because I was diagnosed when I was his age, so I had the same sort of childhood that he's having.
"So, the minute they said we wouldn't have to pay, I said I wanted him to have the money," Ms Hall said. "He needs it more than I do now."
Paying it forward has never been so touching or life-saving. Amazing!